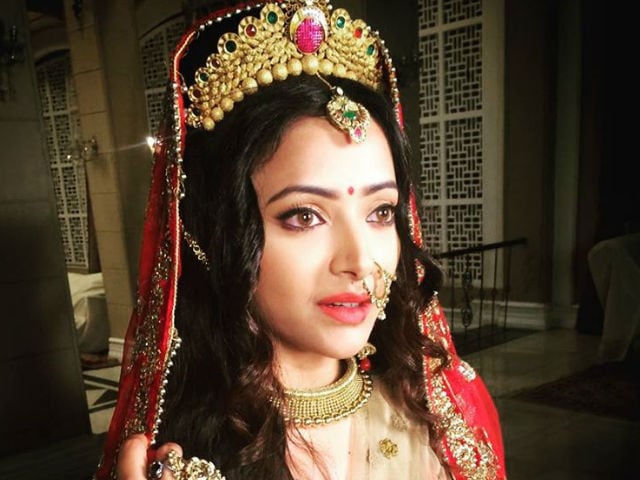 Highlights
Shweta started as a child artiste in Kahaani Ghar Ghar Kii
She won a National Award for her role in Makdee
Currently she plays warrior-princess Nandni in TV show Chandra-Nandni
New Delhi:
Actress Shweta Basu Prasad says that warrior-princess Nandni, the character she plays on the historical TV drama
Chandra-Nandni
, reflects the independent, strong-willed modern woman. Shweta, 25, plays the female lead on the show opposite actor Rajat Tokas, who plays Chandragupta Maurya, the emperor who founded the Maurya dynasty and is credited with unifying much of the Indian subcontinent into a single state.
Chandra-Nandni
began airing last month and the lead actors are prepping for their onscreen wedding. Shweta Basu Prasad, a National Award-winning former child star, said in a statement on Monday that she took the role of Nandni because of how the character was written - as a
strong-willed woman who faces challenges fearlessly
.
Shweta is excited about how Nandni's story arc after her wedding to Chandragupta Maurya will reflect a modern, empowered outlook. In a statement she said: "Right from when the teasers of 'Chandra-Nandni' hit on air, I was convinced that a strong character like this definitely justifies the stance of women today. She is independent and does not tolerate anything wrong. After her wedding, while she will lose all that she had, her family, her kingdom, everything, yet she doesn't fall prey to the circumstances, rather grows from strength to strength and marries the one who took away everything she owns."
Chandra-Nandni
, a fictionalised version of Chandragupta's romantic life, casts Shweta Basu Prasad in the role of a princess of ancient Magadha, born to a father who conspired, murdered and usurped the throne. Chandragupta is the son of the king of a lesser province who was framed for the usurper's murders. Chandragupta is brought up as a commoner and will challenge Nandni's father for the crown.
"Just like Nandni, women today are not bogged down by circumstances, instead they are strong-willed as they take on every challenge with a smile. Nandni too takes on the challenge of marrying a man who ruined her family dynasty," Shweta said in her statement.
Shweta Basu Prasad, who started acting at 11, won a National Award for her performance in Vishal Bhardwaj's 2002 film
Makdee
. She appeared in the tele-soap
Kahaani Ghar Ghar Kii
and the sports film
Iqbal
. She has
starred in several Telugu and Tamil films
and will next be seen in the film
Badrinath Ki Dulhania
, opposite Varun Dhawan and Alia Bhatt.
(With inputs from IANS)