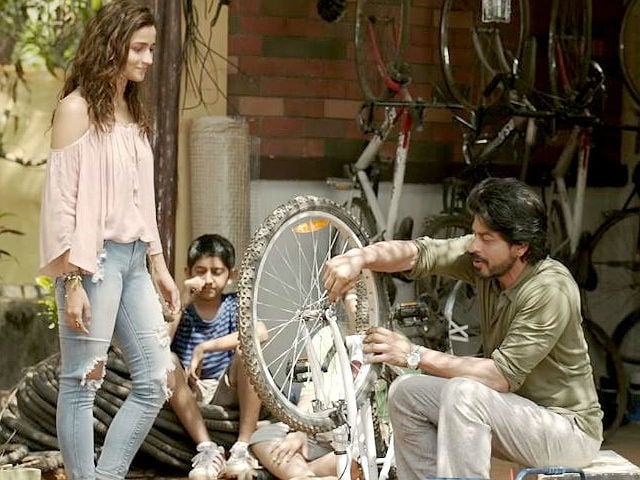 Highlights
Ghostbusters director Paul Feig liked Alia and Shah Rukh film
Huge congrats to SRK and Alia on your wonderful performances, he tweeted
Dear Zindagi is directed by Gauri Shinde
New Delhi:
If there's something cool on your neighbourhood cinema screen, who you gonna tweet? The stars of the film, of course.
Ghostbusters
director Paul Feig has (apparently) watched and loved
Shah Rukh Khan's new film Dear Zindagi
and said so on Twitter. Thus began a fulsome exchange of compliments between SRK, Mr Feig and
Dear Zindagi
co-producer Karan Johar, whose chat show
Koffee With Karan
Paul Feig has also seen, as it turns out. SRK, before responding to Mr Feig's tweet, returned the favour by watching
Ghostbusters
, this year's all-female reboot of the '80s comic-supernatural films.
Dear Zindagi
, which released last week, co-stars actress Alia Bhatt and is directed by Gauri Shinde, all of whom were named in Paul Feig's tweet on November 29.
Huge congrats to @iamsrk and @aliaa08 on your wonderful performances in #DearZindagi. @gauris, you are an amazing writer/director. Bravo!

— Paul Feig (@paulfeig) November 29, 2016
Producer Karan Johar responded on behalf of his cast and director and received a response:
So happy you saw the film Paul...@gauris@iamsrk and @aliaa08 will be thrilled to hear your feedback...lots of love!! https://t.co/mO71OYmOHs

— Karan Johar (@karanjohar) November 30, 2016
You're an amazing producer, Karan. I'm in awe over how much great stuff you put out. And an amazing host too! #CoffeeWithKaranhttps://t.co/97v7ZttazF

— Paul Feig (@paulfeig) November 30, 2016
SRK replied a day later and was thanked by Mr Feig:
Hi my friend @paulfeig didn't reply sooner cos wanted to catch up GB2. Too funny. Thx for the movies. https://t.co/pJ7al75M0N

— Shah Rukh Khan (@iamsrk) December 1, 2016
Thank you, @iamsrk. So happy you enjoyed Ghostbusters 2016. Thanks for taking the time to watch. Hope to see you again soon, my friend. https://t.co/lAAqrAgBlc

— Paul Feig (@paulfeig) December 1, 2016
It's clear from Mr Feig's tweet that he and Shah Rukh Khan have already met but we're not quite sure when. In May this year, SRK issued a Twitter invite to Mr Feig, prompted by his wife Laurie's tweet about hoping to one day visit Mannat, the 51-year-old actor's Mumbai home.
@lauriefeig@paulfeig and all your friends are most welcome whenever you are in India. Tell Paul will keep french fries ready for him...

— Shah Rukh Khan (@iamsrk) May 20, 2016
You're on, @iamsrk! I'll bring the ketchup. It would be an honor to meet you. Many thanks, my friend. https://t.co/AWXV04qn27

— Paul Feig (@paulfeig) May 20, 2016
Alia Bhatt and Gauri Shinde also responded to Paul Feig's praise:
Wohoooooo I'm over the moon and how!!!! Thank you soo much https://t.co/r5ixIk7EuY

— Alia Bhatt (@aliaa08) December 1, 2016
Thankyou so much. Means a lot https://t.co/VE6QBTa9UM

— Gauri Shinde (@gauris) December 1, 2016
Dear Zindagi
, which is now almost halfway to the 100 crore mark, stars Alia Bhatt as a young cinematographer being counselled through romantic distress by Shah Rukh Khan's character. The film, Gauri Shinde's second so far, also stars Kunal Kapoor, Ira Dubey, Angad Bedi and Ali Zafar, with Aditya Roy Kapur making a special appearance.
Paul Feig's gender-bending
Ghostbusters
starred Melissa McCarthy, Kristen Wiig, Leslie Jones and Kate McKinnon in the roles originally played by Bill Murray, Dan Ackroyd, Harold Ramis and Ernie Hudson, with Chris Hemsworth playing their secretary in an inspired piece of casting.