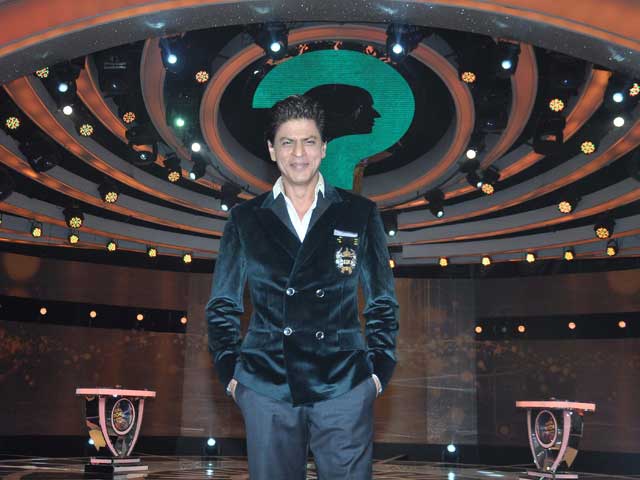 Mumbai:
Actor Shah Rukh Khan may be the man with all the answers on the sets of his upcoming TV show Sabse Shaana Kaun?, but when faced with a barrage of questions from the media, it is a tougher prospect. From the upcoming Budget to the recent Censor Board developments, Shah Rukh certainly had to think on his feet.

SRK described a question about the Budget, to be presented in Parliament this Saturday, as 'odd.' He said "When people ask about a big thing like Budget to actors, I find it odd. So, I will not talk about it. But yes, having said that, I would listen to it, understand it and I hope it is amazing for the economy of India and we all have to respect that and follow it through and make sure that all of us are diligently and honestly doing what the Budget is."

As for the recent list of words banned by the Censor Board, SRK had suggestions to make. He said, "As far as language and freedom of expression is concerned, I think it varies from film to film. If you have a generic list for everything, it will be strange and difficult to follow. But I think they can make a lot more categories in censorship not just U and UA but a lot more ratings. Parental Guidance, non PG, Strictly Adult etc."

These weren't the only touchy topics that were up for discussion - age, after all, can be a sensitive issue! After reports surfaced that SRK's new leading lady in Fan is model Waluscha De Sousa, SRK was asked if it is finally the age of the age-appropriate heroine. He confirmed that Waluscha is in fact a part of his next fim but emphasised that it's not about being age-appropriate but character-appropriate.


And talking about age appropriate actresses, it seems that Shah Rukh wasn't ready to spill the beans just as yet on his film with Kajol.
SRK said, "The grand announcement of the comeback of Kajol and me together will be done once the casting of whole film is done. I think the process is still on. We have about 10 more days and the whole cast will be out because the film has not been cast yet. I could tell you but I would like to announce Red Chillies films with full cast - technical and otherwise. Right now, the age-appropriate Waluscha is with me."
Watch: