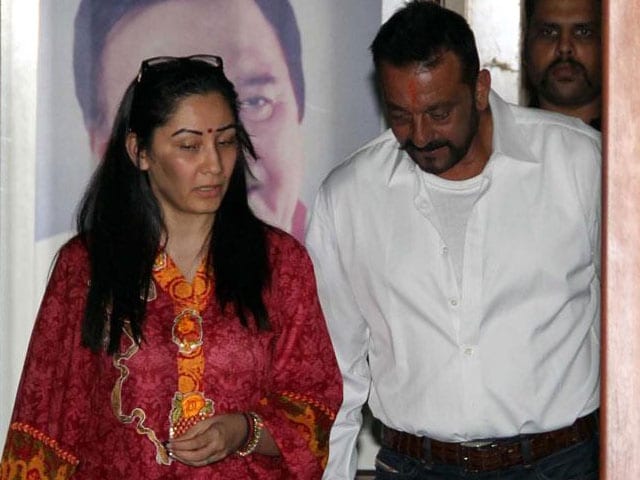 Mumbai:
Bollywood actor Sanjay Dutt, who is currently serving his five year jail term after being convicted in the 1993 bomb blasts case, said that he had never filed for pardon with the Maharashtra Governor nor had he requested anyone else to do so on his behalf.
Mr Dutt's advocates Hitesh Jain and Subhash Jadhav, in a statement released on September 25 said the recent articles stating that Maharashtra Governor has turned down the actor's plea for pardon, are based on an application made by retired Supreme Court Justice Markandey Katju seeking pardon for Mr Dutt and other convicts in the case. (Also Read:
Actor Sanjay Dutt Won't Be Pardoned, Maharashtra Governor Decides
)
"No such application for grant of pardon was ever made by Sanjay Dutt or his family members to the Governor seeking pardon. Further, Sanjay Dutt or his family members never approached former Supreme Court Justice Katju for making an application for pardon on behalf of Dutt," the statement said.
"Justice Katju has suo moto made this application for pardon not only for Dutt but also for other convicts in the case like Zaibunissa Kazi," it added.
The statement said that Mr Dutt has almost finished his imprisonment and shall be out soon.
Justice Katju had petitioned Maharashtra Governor Vidyasagar Rao to pardon Mr Dutt as he was "not a terrorist" and had only "erred".
Mr Rao had rejected the pardon plea earlier this week following the advice of the Maharashtra Home Department which had recommended that granting Mr Dutt pardon would set a bad precedent.
Mr Dutt, 56, was convicted in 2007 by a special court under the Arms Act for possession of arms and sentenced to five years rigorous imprisonment. Mr Dutt had spent 18 months in jail in 1996 after his arrest.
In May 2013, the actor surrendered after the Supreme Court upheld his conviction and sentence. The actor has since then been lodged in the Yerwada Central prison at Pune.
After he was sent to Yerwada in May 2013, Mr Dutt had been out on parole twice and an equal number of times on furlough.
In October 2013, he was out on furlough for 14 days, which was extended by a fortnight. In January 2014, a 30-day parole was extended by another 30 days. In December 2014, he was granted a 14-day furlough.
Since August 27, 2015, he has been again out on furlough. Mr Dutt has spent nearly 30 months in prison already and is due to walk out as in February 2016.
In his petition, Justice Katju had said, "The only charge on which Sanjay Dutt has been found guilty is the charge of having in his possession a prohibited weapon".
Justice Katju had also emphasised that he was in no way questioning the Supreme Court verdict.
The former Supreme Court Justice had written that though the imprisonment of five years for possessing the weapon was correct, Mr Dutt had suffered enough after spending 18 months in jail before he was sentenced in March 2013 and thus his would be a fit case for pardon.