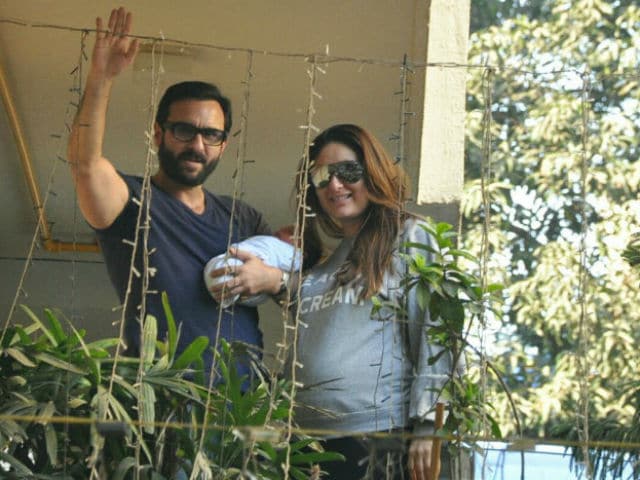 Highlights
"My son is Taimur, an ancient Persian name that means iron," said Saif
The name Taimur was criticised on social media after the baby was born
'Taimur is remembered as a vicious conqueror,' read a tweet
New Delhi:
Actor
Saif Ali Khan has revealed why he and wife Kareena Kapoor called their son Taimur
, a name that was widely criticised on social media. "My wife and I love the sound of it and we love its meaning. I am aware of the heritage of the Turkish ruler-he was Timur, my son is Taimur, an ancient Persian name that means iron," Saif, 46, told
Mumbai Mirror
. Saif and Kareena's unusual choice of baby name proved controversial when Taimur was born last month, with Twitter asking if he was named for Timur, the Central Asian invader who sacked Delhi in the 13th century. Taimur Ali Khan, now almost a month old, was born in Mumbai's Breach Candy Hospital on December 20.
"People talk about the country becoming right-wing and fascist, and we have all these fears...but the fact of the matter is that if you view the kind of unnecessary drama over Taimur, there were a lot of voices...I felt I didn't have to say anything because a lot of people had spoken wisely and liberally. Voices that kind of vindicated my decision and made me feel that it's absolutely fine (to have the freedom to name his child as he wished to),"
Mumbai Mirror
quoted Saif saying. The actor also added, "I should have added a disclaimer, as they do in the movies, that any resemblance to any person, living or dead, is purely coincidental."
After the name Taimur was trolled on Twitter, Kareena's uncle
Rishi Kapoor defended her and Saif
saying that a baby's name was the parents' business and nobody else's. "Yes, there were some people who raised some objections but obviously just to look at medieval history and to make value judgments is, I think, ridiculous," Saif Ali Khan told
Mumbai Mirror
.
Saif married Kareena Kapoor
, 36, in 2012, after a courtship of five years. He was earlier married to actress Amrita Singh and has two children from his first marriage - a daughter, Sara, and a son, Ibrahim.
Professionally, Saif Ali Khan is prepping for the release of Vishal Bharadwaj's
Rangoon
, co-starring Kangana Ranaut and Shahid Kapoor. Kareena Kapoor, who is on a maternal leave at present, will be next seen in
Veere Di Wedding
.