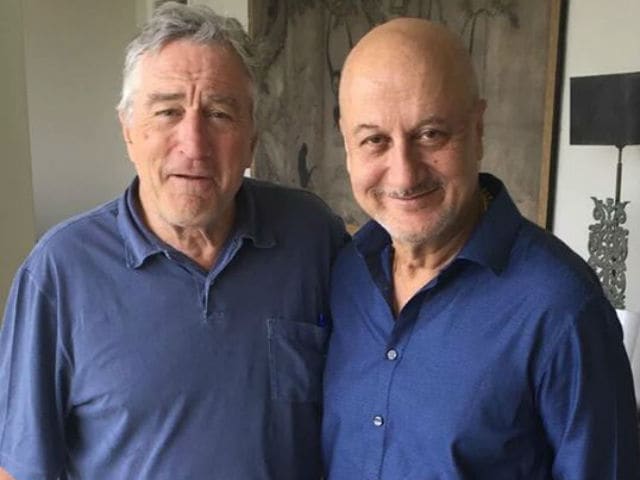 Highlights
Doing 500 films in 32 years has been an awesome journey: Anupam Kher
Anupam Kher said that he is looking at 'new avenues' now
Kumail Nanjiani, Holly Hunter and Zoe Kazan star in the film
Houston:
Actor Anupam Kher has reached yet another milestone in his illustrious acting career by signing another Hollywood film
The Big Sick
, which happens to be his 500th film.
Mr Kher, who is in New York these days, spoke to PTI in a telephonic interview about his 500th movie.
"Doing 500 films in 32 years has been an awesome journey. It shows the kind of life I have had. I'm happy that my 500th landmark film is a Hollywood project. It's not that if it was a Hindi film, it would have not been important. But I have done a lot of work in Hindi cinema and now I am looking at newer avenues. It happened by chance that this film worked out around this time," said Mr Kher.
Mr Kher tweeted a message from veteran Hollywood actor Robert De Niro, who congratulated him on his 500th film.
"Congratulations for finishing your 500th film. It is an amazing thing to do. In America, I have done 95 movies but doing 500 is incredible", said Robert De Niro.
Here's what Mr Kher tweeted:
Happy to announce my 500th film 'The Big Sick'. And who else but to have Robert De Niro congratulate me. Jai Ho.:) pic.twitter.com/9fcYvnuLL7

— Anupam Kher (@AnupamPkher) June 14, 2016
The Big Sick
also casts Kumail Nanjiani, Holly Hunter, Zoe Kazan and Ray Romano star in the film.
Judd Apatow is producing the film based on Kumail Nanjiani and Gordon's own relationship as a Pakistani-born man and an American woman. Mr Kher is playing the role of Kumail Nanjiani's father. Ray Romano and Holly Hunter will be playing Kazan's parents.
Mr Nanjiani is a Pakistani-American stand-up comedian, actor and podcast host married to Emily V Gordon, an author and comedy producer. She is the producer of
The Meltdown with Jonah and Kumail
, a comedy show that began airing on Comedy Central in July 2014. Barry Mendel is also producing the project, which is being financed by FilmNation.