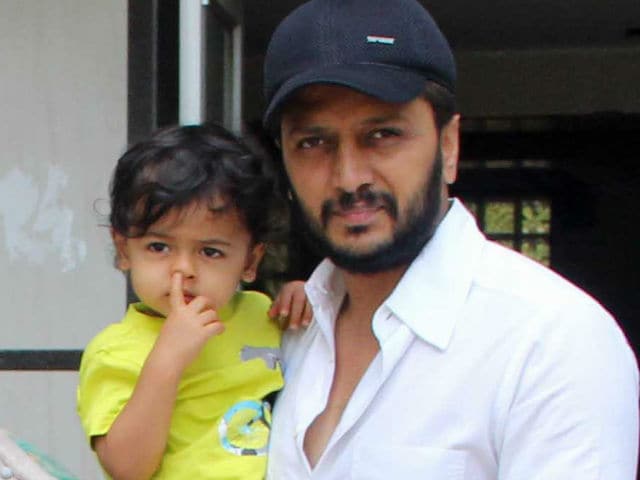 Highlights
If Riaan likes them fine, if he doesn't that's also fine, said Riteish
Riteish Deshmukh says he don't look down upon any genre
His upcoming film, Great Grand Masti, is an adult comedy
Mumbai:
Riteish Deshmukh may have featured in many adult comedies, but the actor is not embarrassed about any of his work.
The 37-year-old actor has featured in adult comedies like the
Kya Kool Hai Hum
series and
Masti
series. When asked how
his son Riaan
, who is one-and-a-half years old, will react to his movies when he grows up, Riteish said, "When I do films, I do it because it is important for me how I feel about films. I am sure, as an actor, there are some movies which he can watch two years from now and some after 18 years."
"Let him watch them, if he likes them fine, if he doesn't that's also fine. I am not embarrassed about any of my work," he said.
Riteish was talking to reporters at the event to launch the trailer of
Great Grand Masti
.
Riteish said he has worked in several diverse movies, like
Grand Masti
, Marathi action film
Lai Bhaari
and the thriller
Ek Villain
.
On being asked if his adult comedies might make the actor's Marathi audience sad, Riteish said the viewers have been kind to him so far.
"As an actor I get an opportunity to do various films, adult and naughty comedy being one of them. I don't look down upon any genre. I am happy that
Grand Masti
was a successful film, that's the reason we are coming back with this. I am happy that
Lai Bhaari
was successful too. Audience has been very kind to me," he said.
Great Grand Masti
is the third installment in the
Masti
franchise. The film also stars franchise regular Vivek Oberoi and Aftab Shivdasani.
The
Housefull 3
actor said that though there may come a saturation point for him in doing adult comedies, newness in the subject can always make the work interesting.
"Of course there can be (a saturation point). The idea is, everyone does realize while doing a film that there could be a saturation point, but when you have something new to offer, there is new humour," he said.
The Indra Kumar-directed film, also starring Urvashi Rautela, is set to release on July 22.
(Except for the headline, this story has not been edited by NDTV staff and is published from a syndicated feed.)