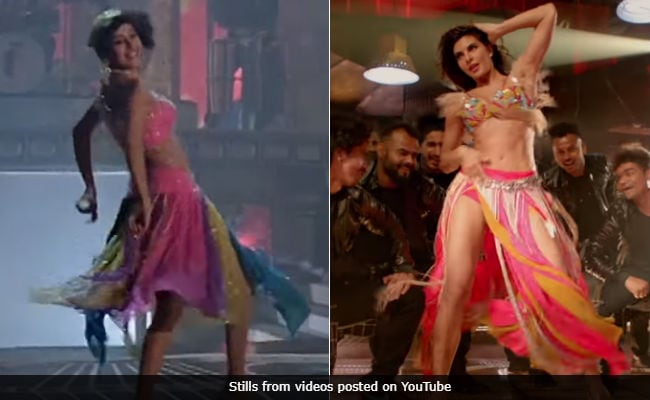 Highlights
Tezaab director said the new Ek Do Teen is "crass"
Salman and Anil Kapoor have defended Jacqueline's Ek Do Teen
Madhuri Disixt haven't spoken about the new song
New Delhi:
Actress Jacqueline Fernandez's update of iconic Nineties hit
Ek Do Teen
has been pilloried on several fronts, including N Chandra - director of the film the original song belonged to,
Tezaab
- and social media, which has been outraging over the new version ever since it released earlier this week. Actors Anil Kapoor and Salman Khan - both of whom are filming Race 3 with Jacqueline - have defended the song on Twitter.
Mr Kapoor's words carry particular weight
because he was the hero of
Tezaab
, although he didn't feature in the song -
Ek Do Teen
belonged to actress Madhuri Dixit, it was one of the earliest and possibly the most memorable of the many dance numbers she appeared in over her career. It's worth revisiting Madhuri's original performance to understand why Twitter is so furious and why
N Chandra dismissed Jacqueline Fernandez's version
, coming up in new movie
Baaghi 2
, as 'crass.'
Tezaab
was made in 1988, a cinematic era in which Bollywood divided its cast into heroes, heroines, villains and character actors. The hero was exactly that; the heroine less so - female leads in mainstream films of the time were expected to do little else other than look pretty, dance well, and be rescued from peril by the hero. Female characters were allowed little or no agency - this was true of Madhuri's character in
Tezaab
, the lovely and talented daughter of a drunkard who forces her to dance in front of a crowd of men. This is the setting of
Ek Do Teen
, which begins with the crowd chanting Madhuri's name in the film - Mohini. But what could well have become the sort of salacious, titillating 'item numbers' that were the mainstay of Bollywood potboilers of the time turned out to be sweet rather than sexy. The credit is Madhuri's, whose grace and megawatt smile lifted the song out of the potential morass of trashy to a rare level of sublime.
Watch Madhuri Dixit dancing to
Ek Do Teen
in
Tezaab
:
Ek Do Teen
was the first of many songs that Madhuri Dixit made famous - no Madhuri film was considered complete without a showcase number. And nobody could elevate the 'item number' into art as well as she could, from
Humko Aaj Kal Hai Intezaar
in
Sailaab
right upto
Ghagra
in
Yeh Jawaani Hai Deewani
.
Director N Chandra's objection to the new version of
Ek Do Teen
- as well as choreographer Saroj Khan's - is that Jacqueline Fernandez's routine essentially drags the song back into the gutter from where Madhuri had elevated it. The new
Ek Do Teen
, set in a nightclub, was released this week.
Watch here:
Twitter hates Jacqueline's
Ek Do Teen
:
I've not seen the trashy Ek do teen till now. Let's hope I never do.

— pri (@_AgarTumSaathHo) March 22, 2018
The reason why original #EkDoTeen is such an iconic song is because the woman is seen being more than an object of desire. Madhuri dances beautifully in a quirky and fun way not trying to please anyone. The newer version does the exact opposite

— lost soul (@theClaiire) March 19, 2018
If were to explain Jacqueline Fernandez's remake of Madhuri Dixit's Ek Do Teen in one word: Horror.

Do not touch the legends.

— Sonam Mahajan (@AsYouNotWish) March 19, 2018
Was changing channels suddenly watched Jacqueline Fernandez dancing to iconic song 'Ek Do Teen.....'. Switched off the TV as a mark of respect to Madhuri Dixit.

— PhD in Bakchodi (@Atheist_Krishna) March 20, 2018
If you still do not appreciate the level of artistry Madhuri Dixit delivered through her dance numbers and the delicate balance she struck in the more sensual ones, I hope you'll realize it after watching the new Ek Do Teen.

— Hichki 23rd MARCH (@kowshik4mBD) March 19, 2018
So instant and so scathing was the backlash that Jacqueline's co-stars felt compelled to defend her on Twitter.
What a momentous task it was to follow in @MadhuriDixit's footsteps, and @Asli_Jacqueline has done it exceptionally! It takes a lot of courage & conviction to attempt to recreate an iconic song that so many people have loved for so long! #EkDoTeenhttps://t.co/FSJHTDnwC7

— Anil Kapoor (@AnilKapoor) March 22, 2018
Loved d song, Jackie has done full justice 2 d legendary moves of Saroj khan difficult to match Madhuri. Nice 2 see Varun n Jackie to our songs makes us proud n keeps d songs alive n fans listening, dancing n having a blast. Makes me proud . Enjoy Karo !https://t.co/qQ6nfnSAD1

— Salman Khan (@BeingSalmanKhan) March 21, 2018
And while
Salman's tweet was allowed to pass
, Anil Kapoor has been soundly chided in the comments thread for defending the song.
The one person who is deafeningly silent is Madhuri Dixit herself - there has been no tweet, no public show of support from her. Last year, she happily appeared in a promotional video with actors Alia Bhatt and Varun Dhawan who were recreating her song
Tamma Tamma
from
Thanedaar
in their film
Badrinath Ki Dulhania
. But for
Ek Do Teen
2.0, Madhuri isn't speaking up.