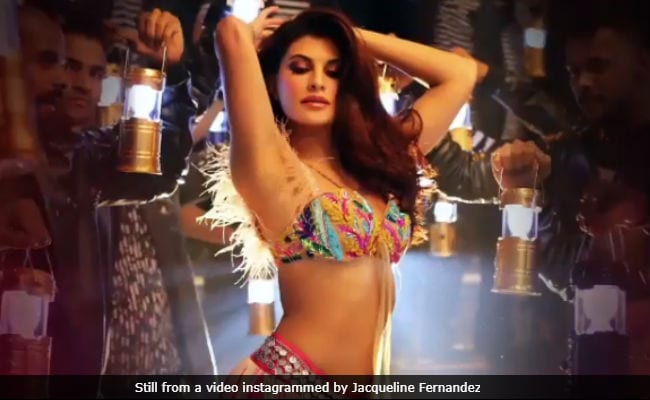 Highlights
Jacqueline's Ek Do Teen is a part of Baaghi 2 music album
Ahmed Khan said he did not interfere with the choreographer's work
I did not attend any rehearsal of the song: Ahmed Khan
New Delhi:
Jacqueline Fernandez's rendition of
Madhuri Dixit's iconic Nineties track Ek Do Teen
(which will be incorporated in
Baaghi 2
) backfired on the filmmakers after it was slammed on the Internet and dismissed as "crass" by
Tezaab
director N Chandra. But
Baaghi 2
director Ahmed Khan told news agency IANS that they were prepared for the criticism. "From the moment we zeroed down on the song
Ek Do Teen
, we were ready for the criticism," he said. Ganesh Acharya, who was a background dancer in Madhuri's 1988 song, choreographed Jacqueline Fernandez in
Ek Do Teen
redux. "I did not interfere with his work. I did not attend any rehearsal of the song, I did not show my power of being the director when the song was choreographed," Ahmed Khan told IANS.
"I know you would be thinking that as a director I green-lit the final take. But we must not forget that it is an experiment... All feedback of such work cannot be positive. We are here to take the praise and bashing," he added.
N Chandra has vehemently slammed the new version and Saroj Khan, the choreographer of Madhuri's song, has refused to comment but celebrities like Salman Khan and Anil Kapoor have put in a word of favour for Jacqueline on Twitter.
Salman Khan said that Jacqueline did "full justice to the legendary moves of Saroj khan" and
emphasised that it is difficult to "match Madhuri Dixit."
Anil Kapoor, who co-starred with Madhuri Dixit in
Tezaab
but did not feature in the song, said: "What a momentous task it was to follow in Madhuri Dixit's footsteps and
Jacqueline Fernandez has done it exceptionally."
Loved d song, Jackie has done full justice 2 d legendary moves of Saroj khan difficult to match Madhuri. Nice 2 see Varun n Jackie to our songs makes us proud n keeps d songs alive n fans listening, dancing n having a blast. Makes me proud . Enjoy Karo !https://t.co/qQ6nfnSAD1

— Salman Khan (@BeingSalmanKhan) March 21, 2018
What a momentous task it was to follow in @MadhuriDixit's footsteps, and @Asli_Jacqueline has done it exceptionally! It takes a lot of courage & conviction to attempt to recreate an iconic song that so many people have loved for so long! #EkDoTeenhttps://t.co/FSJHTDnwC7

— Anil Kapoor (@AnilKapoor) March 22, 2018
"The intention behind recreating any song is to revisit the memory of some of the cult classics like this, and keeping the new generation connect with it. Our youngsters have a strong connection with the lead pair of the film, Tiger Shroff and Disha Patani. When they watch the song in this film, they get to know about an old song that our generation grew up watching," Ahmed Khan told IANS.
Ahmed Khan also told PTI that even if the redone version doesn't qualify as a great match of the original, the team's efforts should be appreciated for introducing
Ek Do Teen
to a new generation: "I am not saying we have done a great job, even we are doing business as it is a hit song so we have taken it. At the same time see the benefit, we are taking it to another generation, giving it a life."
Of Madhuri's feedback (which is still awaited), Ahmed Khan said: "Giving a feedback is her choice. I have nothing to say on that. We have done the song, bought the rights and in a legal way. I think we should be encouraged to attempt to recreate a song like 'Ek Do Teen' that was released 30 years ago."
Baaghi 2
is slated to release on March 30.
(With agency inputs)