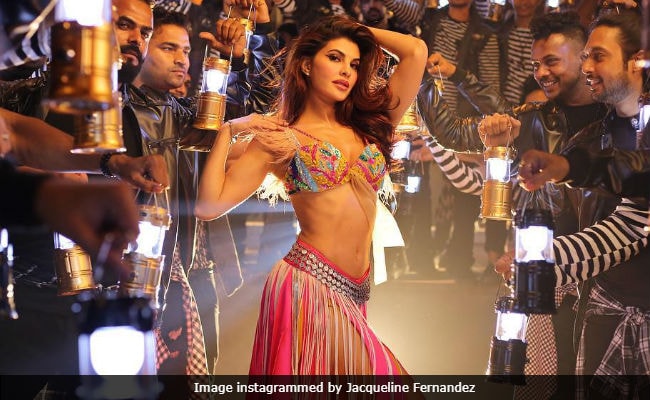 Highlights
N Chandra and Saroj Khan plan to take action against Baaghi 2 makers
Saroj Khan choreographed Madhuri Dixit in the original song
Baaghi 2 director said that the new version is "homage to the original"
New Delhi:
Ek Do Teen
redux, featuring Jacqueline Fernandez in Madhuri Dixit's place, has not impressed
Tezaab
director N Chandra, who originally directed the iconic song. He's upset with the makers of
Baaghi 2
, for which the song has been resurrected and he has decided to take action against the filmmakers, reports
The Quint
. Mr Chandra was informed about the new version by Saroj Khan, who choreographed Madhuri Dixit in the 1988 film, at late actress Sridevi's funeral. "She (Saroj Khan) came to me and said, 'Have you seen what they're doing to our
Ek Do Teen
number?' I had no clue. Saroj
ji
told me that the makers of
Baaghi 2
were doing a new version of
Ek Do Teen
. She said she will take legal action against it,"
The Quint
reported N Chandra as saying.
Ek Do Teen
2.0 released on Monday and the Internet was also not really happy about the new version. Speaking to news agency IANS, Mr Chandra said: "I can't believe they've done this to
Ek Do Teen
. It's crass beyond imagination.
And Jacqueline Fernandez doing Madhuri Dixit's number?
Give me a break! It's like turning the Central Park into a botanical garden."
Meanwhile, Saroj Khan refused to comment on the song and the controversy surrounding it, reports IANS.
Here's what Twitter said about Jacqueline's version of the song:
The reason why original #EkDoTeen is such an iconic song is because the woman is seen being more than an object of desire. Madhuri dances beautifully in a quirky and fun way not trying to please anyone. The newer version does the exact opposite

- lost soul (@theClaiire) March 19, 2018
It would be better if they scrap this video and song out of the film and YouTube and forget they made it.#EkDoTeen#savetheclassics

- Omkar Reddy (@omkar939) March 19, 2018
Madhuri dixit after watching Ek Do Teen #EkDoTeenpic.twitter.com/LUJLxDpZDZ

- pramod bagade (@pramodbagade1) March 16, 2018
In a separate interview,
Baaghi 2
director Ahmed Khan said that once they decided to redo
Ek Do Teen
he had rushed to seek Saroj Khan's "blessings" but did not invite her to redo the choreography. He told
Bollywood Hungama
: "I quickly paid Saroj
ji
a visit. But we did not invite her to do the choreography for the new version of
Ek Do Teen
for two reasons. One, because we wanted a new treatment to the song. And two, because Saroj
ji
is now getting old and is also likely to run out of patience on the sets."
Jacqueline's version of
Ek Do Teen
has been choreographed by Ganesh Acharya, who was one of the background dancers in the original song. "We have incorporated Madhuri's signature step into our version but the rest of the steps are by Ganesh," Ahmed Khan said, adding that
Ek Do Teen
redux is "homage to the original."
Baaghi 2
features Tiger Shroff and Disha Patani in lead roles and the film is expected to hit the screens on March 30.
(With inputs from IANS)