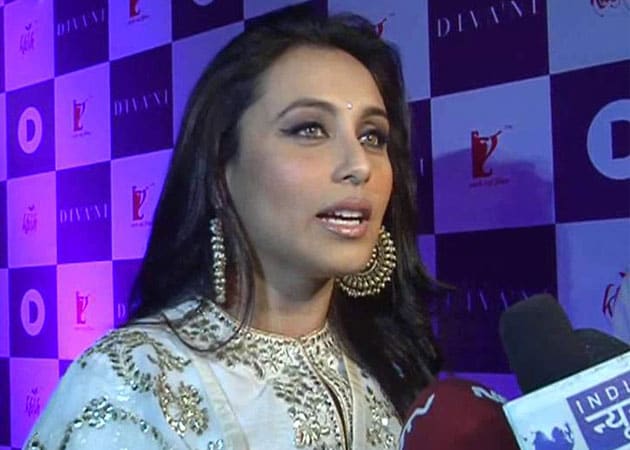 Highlights
The white-clad Yash Chopra heroine, as made famous by actress Sridevi in Chandni, got an outing at the opening of the first Diva'ni (the fashion line inspired by the late director) store in New Delhi.
Actress Rani Mukherji, lovely in a white and silver outfit, said, "I am here because of Yash uncle tonight. I have dressed up for him because everything here is happening because of him. The entire collection is inspired by the way he presented his heroines with grace dignity and beauty. They were brave yet vulnerable. I have especially dressed up for him in white today since if he is around, he would definitely feel happy."
Rani, who shared a warm hug with Yash Chopra's widow Pamela at the launch, also said, "I got the thumbs up from Pam aunty too, so I'm sure if Yash uncle is there he will be loving it too."
The actress, who was directed by Mr Chopra in Veer-Zaara, has long been rumoured to be in a relationship with Yash and Pamela Chopra's elder son, director Aditya. And while her increasingly frequent public appearances with the Chopras could be construed as an acknowledgement of sorts, Rani isn't ready to go on record with an open admission.
In response to the now familiar and slightly repetitive marriage query, Rani said, "We can't talk about all that now."
Watch video
New Delhi:
The white-clad Yash Chopra heroine, as made famous by actress Sridevi in
Chandni
, got an outing at the opening of the first Diva'ni (the fashion line inspired by the late director) store in New Delhi.
Actress Rani Mukherji, lovely in a white and silver outfit, said, "I am here because of Yash uncle tonight. I have dressed up for him because everything here is happening because of him. The entire collection is inspired by the way he presented his heroines with grace dignity and beauty. They were brave yet vulnerable. I have especially dressed up for him in white today since if he is around, he would definitely feel happy."
Rani, who shared a warm hug with Yash Chopra's widow Pamela at the launch, also said, "I got the thumbs up from Pam aunty too, so I'm sure if Yash uncle is there he will be loving it too."
The actress, who was directed by Mr Chopra in
Veer-Zaara
, has long been rumoured to be in a relationship with Yash and Pamela Chopra's elder son, director Aditya. And while her increasingly frequent public appearances with the Chopras could be construed as an acknowledgement of sorts, Rani isn't ready to go on record with an open admission.
In response to the now familiar and slightly repetitive marriage query, Rani said, "We can't talk about all that now."
Watch video