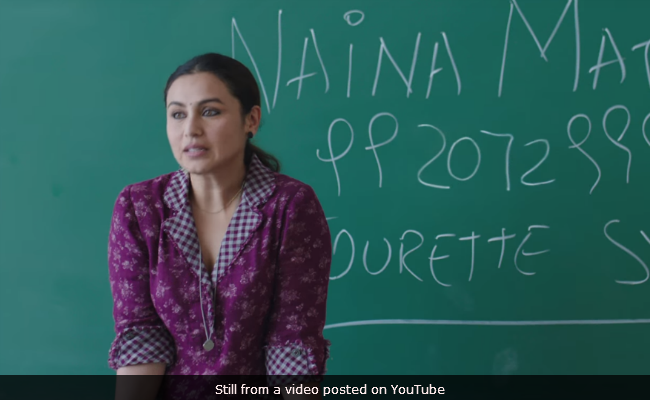 Highlights
Rani Mukerji says she has gone through many hiccups in life
Rani's character has Tourette syndrome in Hichki
Hichki is presented by Yash Raj Films
New Delhi:
Actress Rani Mukerji,
who won hearts with the trailer of her upcoming film Hichki,
says that she has faced hiccups (
Hichki
s ) in her personal and professional life. Rani's film's tagline says: "What is life without a few hiccups" and the actress says she truly relates to the ideology. In an interview with news agency IANS, Rani said, "Yes, of course. I think hiccup is a normal process for any actor, for any person in their life. Sometimes you have a hiccup in your personal life and sometimes in your professional life. But the beauty of a hiccup is that you can get over it as well. It's not like that you have a hiccup and you keep hiccupping all your life... There have been times professionally and personally I have been through hiccups," Rani added.
In
Hichki
, Rani plays Naina Mathur, a character with the Tourette syndrome - a condition that forces an individual to make involuntary repetitive movements or sounds. (In Rani's case it's "
chuk-chuk-chuk
") Without elucidating on the hurdles she has faced, Rani said hiccups can be a learning experience. "We can learn how do we get out of it and how do we come out stronger."
Rani Mukerji is making Bollywood comeback after four years with
Hichki
, directed by Siddharth P Malhotra and produced by Maneesh Sharma.
This is not the first time Rani will be playing a character with a disability. In 2005, the actress portrayed Michelle McNally, a visually and hearing impaired woman in Sanjay Leela Bhansali's
Black
.
Of portraying versatile characters, Rani told IANS: "I think every role is difficult because for every role, I am trying to take Rani Mukerji out and put the character in it. So, whether it is Naina, Michelle or Babli (of
Bunty Aur Babli
), the role has to be distinct from each other. They can't be the same. I have to put in a lot of thought in every particular character."
For her role as Naina in Hichki, Rani, 39, took help
from a person suffering from the Tourette syndrome. "I have someone from whom this character is inspired from so I had someone in front of me who is living this life of having this syndrome and I understand what he went through... These things helped me as an actor to be able to portray the role," IANS quoted Rani as saying.
Hichki
is Rani's first film after the birth of her daughter Adira. Rani is married to
Aditya Chopra, who heads Yash Raj Films.
(With inputs from IANS)