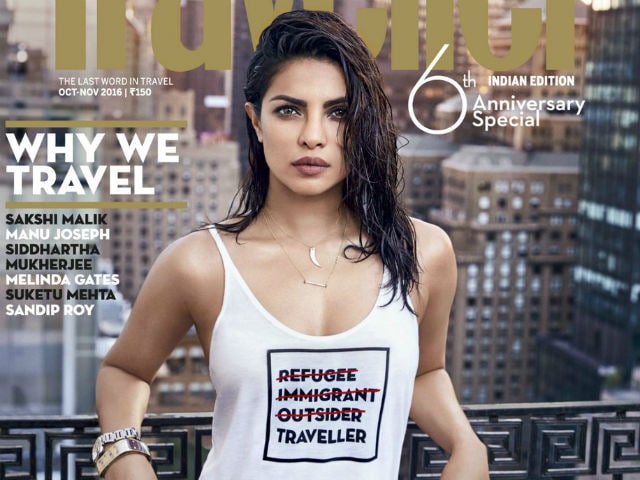 Highlights
Jennifer Lawrence had used a sacred Hawaiian rock for scratching
Hilary Duff had to apologise for her 'insensitive' costume
People were upset when Priyanka wore a t-shirt with the word 'refugee'
Washington:
Celebrity apologies are a time-honored tradition, as stars frequently find themselves caught up in controversies -- and have creative ways of expressing regret, with certain statements surely crafted by a helpful publicist or manager. Here's a list of what celebrities did that they felt compelled to apologise for in 2016, from the very silly to the very serious:
Laughed at a joke about Zika. Demi Lovato burst out laughing on Snapchat in August when her mom said, "Everybody down in Rio gonna get the Zika virus." Lovato then walked back the joke: "In no way did I mean to offend anyone last night. I was laughing at how southern my mom sounded, not the issue at hand. Deepest apologies."
Used a sacred Hawaiian rock for scratching. Jennifer Lawrence joked in November that while filming
The Hunger Games
in Hawaii, she found sacred rocks were "good for butt-itching" after filming in a wetsuit. Unsurprisingly, people were offended.
Lawrence said she was being self-deprecating: "I meant absolutely no disrespect to the Hawaiian people. . .but I understand the way it was perceived was not funny and I apologise if I offended anyone." Called Prince's death "pathetic." In May, Gene Simmons said this about Prince's death: "But how pathetic that he killed himself. Don't kid yourself, that's what he did. Slowly, I'll grant you. . . but that's what drugs and alcohol is: a slow death." He tweeted his regrets: "I apologise -- I have a long history of getting very angry at what drugs do to the families/friends of the addicts."
Posted a photo petting a dolphin. "I touched Dolphins belly while sporting a trucker hat in 2004," Brie Larson wrote as the caption to a "flashback Friday" Instagram photo in September. She wound up deleting the post: "I apologise if the photo appeared to endorse animal cruelty. I don't believe any living thing deserves miss treatment."
Accused Odell Beckham, Jr. of being sexist. Lena Dunham made assumptions about the New York Giants star in May when he didn't talk to her at the Met Gala: "He looked at me and he determined I was not the shape of a woman by his standards," she told Amy Schumer in an interview. After much criticism, she apologised: "After listening to lots of valid criticism, I see how unfair it is to ascribe misogynistic thoughts to someone I don't know AT ALL."
Flashed a. . .certain area at the American Music Awards. Chrissy Teigen wore quite the daring dress on the red carpet in November: "Apologies to anyone harmed mentally or physically by my hooha."
Pretended to come out as gay. In July,
Teen Wolf
star Tyler Posey posted a Snapchat standing under a sign for Gay St. "This is me. . .I've never felt more alive. I'm gay!" he announced. He soon realized that was a dumb idea for a joke: "I am truly sorry to the people I've offended or lessened how big coming out is. I just want to spread love in this world."
Made controversial statements about the Black Lives Matter movement. In November, when asked about Black Lives Matter, Lil Wayne said, "I don't feel connected to a damn thing that ain't got nothing to do with me" during a "Nightline" interview. He then told TMZ he was irritated by a previous question during the interview about his daughter, and then tuned out completely: "Apologies to anyone who was offended."
Made "careless and misguided" comments about the Black Lives Matter movement. Brody Jenner spoke out in October after he reposted a friend's Instagram statement that said police violence "has nothing to do with race": "Having done more research into the Black Lives Matter movement. . .I realize that my comments weren't thoughtful or substantiated. I spoke out of turn on a subject I wasn't particularly educated on."
Dressed as a "sexy pilgrim" alongside a Native American "chief" for Halloween. Hilary Duff donned the costume, along with her boyfriend, who dressed as a Native American. "I am SO sorry to people I offended with my costume. It was not properly thought through," she tweeted in October.
Exaggerated details about an incident at a gas station in Rio. Remember this one? At first, U.S. Olympic swimmer/reality star Ryan Lochte said he were held up at gunpoint in August; then admitted that he wasn't totally truthful about all the details: "I want to apologise for my behavior last weekend - for not being more careful and candid in how I described the events of that early morning."
Gave an inflammatory interview.
The Real O'Neals
star Noah Galvin made some controversial statements in a Vulture interview in June, and criticized actor Colton Haynes for only "sort of" coming out. He also said Eric Stonestreet's gay character on
Modern Family
was "a caricature of a caricature of a stereotype of stereotype." You could feel the countdown to his apology, which arrived shortly after: "I apologise to everyone that I've hurt with my comments and understand the damage has been done," Galvin wrote.
Sneaked two Yorkshire terriers on a private jet into Australia. Before news of their divorce made things very serious, Johnny Depp and Amber Heard went to court over the dog incident, when they didn't declare their two Yorkies, Pistol and Boo. Ultimately they filmed a bizarre video in April and Heard said she was "truly sorry that Pistol and Boo were not declared. Protecting Australia is important."
Dropped an American flag. Corey Feldman performed a patriotic song on the
Today
show in October, but accidentally dropped the flag: "Once I was on stage, my brain reverted to my choreography, which was to throw my hands up in the air with a peace sign. As a dancer, my instinct is to drop anything in my hands. In that live moment, it came off as wrong and for that I'm deeply sorry."
Got in a Twitter feud with Wiz Khalifa. Specifically, Kanye West mentioned Khalifa's ex, Amber Rose, and her young son in his Twitter rant. That, West apologised for: "There is no concept of anyone beating up on someone else's child or that type of concept. So every day I feel more deeply, deeply, deeply apologetic about that concept, because I only want to put out positive, positive, positive concepts."
Tweeted "#inspired" after Jesse Williams's speech at the BET Awards. Justin Timberlake was inspired in June after the
Grey's Anatomy
actor delivered a powerful speech about race, and tweeted his thoughts. Social media jumped on him almost immediately: "So does this mean you're going to stop appropriating our music and culture?" wrote one black journalist. Later, Timberlake delivered an update: "I apologise to anyone that felt I was out of turn. I have nothing but LOVE FOR YOU AND ALL OF US."
Debuted a Melania Trump impression. Gigi Hadid did her best future first lady while co-hosting the American Music Awards in November. Some viewers were not impressed. Hadid responded: "I too have been the center of a nationally televised comedy skit that poked fun at my actions and was able to find the humor in it. . .I apologise to anyone that I offended and have only the best wishes for our country."
Wore an insensitive t-shirt. People were upset in October when
Priyanka Chopra wore a shirt for a photo shoot
with the words "refugee," "immigrant," and "outsider" in a list and crossed out, and the word "traveller" at the bottom, calling it insensitive to refugees. "I'm really apologetic about sentiments being hurt. I have always been against labels. I am very affected and feel really horrible, but the message has been misconstrued," the actress said, adding the shirt was about "addressing xenophobia."
Had an incident on a flight to Cancun. After reports of an "outburst" in June, Selma Blair released an unusually candid statement: "I made a big mistake yesterday. After a lovely trip with my son and his Dad, I mixed alcohol with medication, and that caused me to black out and led me to say and do things that I deeply regret. . .I am a flawed human being who makes mistakes and am filled with shame over this incident. I am truly very sorry."
Didn't put hand over heart during the National Anthem. This "story" got a curious amount of attention when Olympic gymnast Gabby Douglas stood with her hands clasped in Rio in August: "I always stand at attention out of respect for our country whenever the national anthem is played. I never meant any disrespect and apologise if I offended anyone."
Dressed as a Native American during a "Lone Ranger"-themed party. Chris Hemsworth actually did this on New Year's Eve 2016, but made amends in October: "Some of us, myself included, wore the traditional dress of First Nations people. I was stupidly unaware of the [offense] this may have caused and the sensitivity around this issue. . .I sincerely and unreservedly [apologise] to all First Nations people for this thoughtless action."
Didn't appear to accept a Nobel Prize. Bob Dylan was a no-show in Sweden but sent a note that said, "I'm sorry I can't be with you in person, but please know that I am most definitely with you in spirit and honored to be receiving such a prestigious prize."
Attended a party that was raided by police. Country singer Zac Brown took to Facebook in April to clarify why he was at a party in Miami where people were busted for drugs: "I did not know these people and had no idea that there were drugs in their possession. . .everyone is responsible for their actions, and I regret using poor judgment and putting myself in that position."
Had New York Fashion Week models wear dreadlocks. After many called out Marc Jacobs for cultural appropriation in September, he said sorry on Instagram: "I apologise for the lack of sensitivity unintentionally expressed by my brevity."
Said Aboriginal people "looked like dinosaurs." Performance Artist Marina Abramovic made the comments in a memoir. After #TheArtistIsRacist started trending because of her statement, Abramovic posted a statement to Facebook in August: "I have the greatest respect for Aborigine people, to whom I owe everything."
Bailed on a British Christmas tree lighting. Lindsay Lohan just couldn't make it to Kettering last month: "With my busy schedule, I wasn't able to."
© 2016, The Washington Post
(Except for the headline, this story has not been edited by NDTV staff and is published from a syndicated feed.)