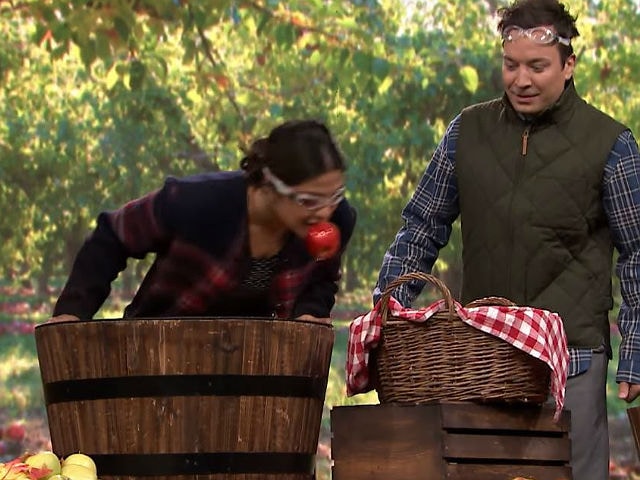 Highlights
Priyanka defeated Jimmy Fallon by 5-0 at apple bobbing
Priyanka told fans why she was twirling all night at the Emmys
Her show Quantico returns with a new season this weekend
New Delhi:
Actress Priyanka Chopra was back on
The Tonight Show Starring Jimmy Fallon
and this time it was all about bob for apples than
chicken wings
. The 33-year-old actress, whose famous American television show
Quantico
returns with a new season this weekend, also talked about her Emmys appearance, the
upcoming season of Quantico
, her 'nine passport booklets', and home -
amchi Mumbai
.
But we're not saving the best for the last. There was an apple bobbing competition where Jimmy and Priyanka took turns to see who can grab the most number of apples using only their mouths. Priyanka won (obviously) and the score was 5-0. She then taught Jimmy how to bob an apple. The result was hilarious:
Now, rewind to the Q&A segment.
Priyanka - The Twirl Emoji
Priyanka
made a spectacular appearance
at last weekend's Emmy Awards, where she twirled and twirled in a ravishing red Jason Wu dress. "I walked out with this big train (of dress) and I did it for the first time because I was like 'Oh, it's so pretty and I feel princess-y.' And after I twirled once,
I was twirling all night
. All the photographers were like, 'Can you twirl?' Then even on stage Tom (co-presenter Tom Hiddleston) made me twirl - and I was only twirling.
I'm the twirling/dancing emoji now
."
Apparently, Jimmy thought so too, because he was ready with a comparative display card:
The emoji is @priyankachopra at the Emmys! #FallonTonightpic.twitter.com/L3V8TFSJJX

— Fallon Tonight (@FallonTonight) September 22, 2016
Home and New York
Priyanka made her fans very happy when she said that though she's been living in New York for the past three months, she's "not committed" to the city. "I've been filming my show (
Quantico
) here but I haven't committed to New York yet." When Jimmy insisted she must do so, Priyanka said: "It's commitment phobia. I still say I live in Mumbai although I'm never there."
What happened next will make all Priyanka Chopra fans really, really happy. Fallon asked Priyanka, "So, where's your home?" And she said: "I have a home in Mumbai, I have a
home in New York
and I have a home in Los Angeles. But I live in Mumbai and work in New York."
Fallon then shared "sandwich" like picture of Priyanka's passports. "I run through one passport in a year. I actually have nine passports, I have five now, because I have valid visas in them, otherwise I run out of papers to stamp."
Agent Parrish Returns
Priyanka plays Alex Parrish in the crime thriller, who was expelled from FBI at the end of season only to be offered a post by the CIA. This Sunday, Agent Parrish starts her journey with the CIA and Priyanka said: "The second season will be epic. Basically
Quantico
is a show which has terrorism at the middle of it but at the same time there's a lot about love, relationships and friendship."
Watch the interview here:
Interview: @priyankachopra on the Tonight Show with Jimmy Fallon #PriyankaOnFallonpic.twitter.com/78q4Ug9rWU

— Priyanka-Chopra.us (@PriyankaNetwork) September 22, 2016
Quantico will premiere
on September 26 in India.