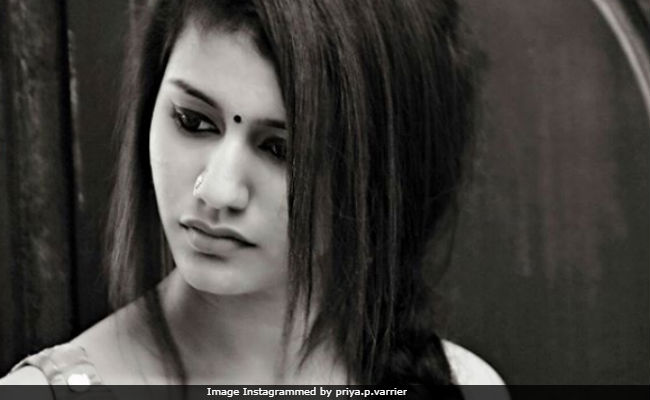 Highlights
Priya's wink has sent the entire Internet into a meltdown
She features in a song from Malayalam film Oru Adaar Love
The song has garnered over 8 million views on YouTube
New Delhi:
That wink, that smile, and the Internet was smitten. A clip of young Malayalam actress
Priya Prakash Varrier from new film Oru Adaar Love went crazily, insanely viral
over the weekend. Priya's is a face that launched a 1,000 memes, and the side effect of viralness is this: a blue tick on her Instagram account. Priya seems to have been on Instagram since October 2016 - she has shared 93 posts so far - but her account only just became verified, after her follower count shot up to over 1.5 million (and very much counting) overnight. #PriyaPrakashVarrier is still trending on and off. More about the film clip that made Priya the nation's new crush later - first, five pictures she posted on her Instagram account.
The clip that has sent the Internet into such a meltdown is from a song titled
Manikya Malaraya Poovi
from
Oru Adaar Love
, in which Priya and her co-stars appear to be playing school students. In the viral footage, Priya flirts with a fellow student, who is as overwhelmed by her wink and smile as social media was. On YouTube, the clip has been watched over eight million times so far.
Wait... what's that puddle on the floor? Oh, your heart.
While her Instagram account is verified now, Priya's Twitter is still missing the blue tick. She tweeted on Monday, "Thank you so much for the love and support."
Thank you so much for the love and support for #ManikyaMalarayaPoovi#OruAdaarLove. 4.3 Million views for YouTube & counting, 600k+ for me going bigger in Instagram. #MondayMotivation#PriyaPrakashVarrierpic.twitter.com/vKLLQKiho2

— Priya Prakash Varrier (@ppriyavarrier) February 12, 2018
If you need a refresher on what she's referring to, here's just a few of the tweets about Priya's wink.
Okay! India we need to talk #PriyaPrakashVarrierpic.twitter.com/tregcDk8MF

— Waqar (@Waqar_kTTk) February 12, 2018
Omg this music and her expressions #PriyaPVarrier#PriyaPrakash#PriyaVarrier#PriyaPrakashVarrierpic.twitter.com/KXjr3TPEXp

— dolly (@biblio_oo) February 12, 2018
The trends and hashtags might be devoted to Priya Prakash Varrier but her co-star Mohammed Roshan - the student she flirts with in the song - is also getting some love online. "Dear girls, don't let the video fool you. Even the guy is damn too cute," read a tweet. Another user wrote, "The cute guy who melts with the girl's wink in #OruAdaarLove is no less charming than her." (Yes, we agree too).
Dear girls, don't let the video fool you.



Even the guy is damn too cute!!#roshanabdulrahoof#PriyaPrakashVarrier#thiseyeexpression guy pic.twitter.com/ESyjyhnSPD— Pros AK(@born_an_awesome) February 12, 2018
Oru Adaar Love
has been directed by Omar Lulu and is scheduled to release on March 3.