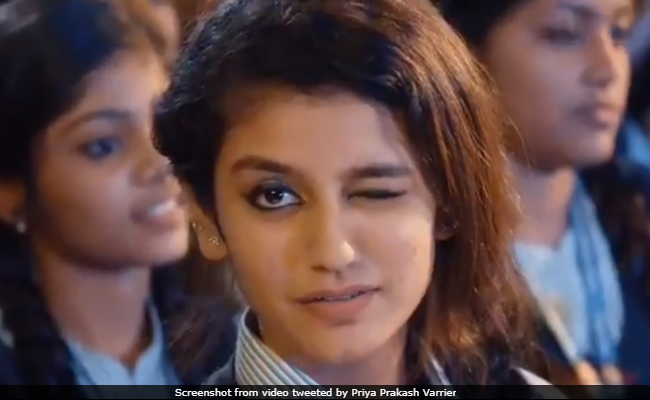 Highlights
Priya Prakash Varrier turned into an overnight social media sensation
Manikya Malaraya Poovi video clip shows two school students flirting
The film, Oru Adaar Love is scheduled to release on March 3
New Delhi:
If you haven't heard of Priya Prakash Varrier yet, you might have at least seen her - over the weekend, a film clip of the young actress winking went insanely viral, prompting a tidal wave of memes. #PriyaPrakashVarrier has been trending on Twitter. An unverified Twitter, one of many currently bearing Priya's name, acknowledged by the subject of the trend in a tweet that reads, "Can't believe this." Priya makes her debut in
, the film to which the clip - specifically, from a song titled Manikya Malaraya Poovi - in question belongs.

Priya Prakash Varrier turned into an overnight sensation when a teaser clip of Manikya Malaraya Poovi, from her upcoming film Oru Adaar Love, was shared on social media last week, sending the entire Internet into a meltdown. The clip shows Priya, dressed in school uniform, winking at a fellow student, who, like social media, is instantly floored.

Twitter was smitten, posting "Okay! India we need to talk #PriyaPrakashVarrier" and "Guys be like, 'I want the same wink with same expressions as return gift this session. Else forget about any melt from my side. #priyaprakashvarrier #newnationalcrush."

Take a look at some of the memes and jokes made on Priya Prakash Varrier:



#PriyaPrakashVarrier who did this? pic.twitter.com/Ak6SUbDSLg

— Winter is Coming (@IMinHangover) February 12, 2018
Okay! India we need to talk #PriyaPrakashVarrierpic.twitter.com/tregcDk8MF

— Waqar (@Waqar_kTTk) February 12, 2018
Dear boys!
"Those who are obsessed with Priya's smile"

Ye bhul jaten hain, agar Priya ke samne ek charming boy, fabulous expression nahi deta, to uski smile itni adorable kese hoti?

Moral: learn how to make a girl smile.#PriyaPrakashVarrier

— Tweetberry (@Tweetberry_) February 12, 2018
Priya Prakash Varrier gave all types of expression in that two minutes what Katrina kaif couldn't give in her entire Bollywood career. #PriyaPrakashVarrier#Priya#Expressions

— Archit Haran (@archit_haran) February 12, 2018


The Malayalam-language Oru Adaar Love, starring a bunch of newcomers, has been directed by Omar Lulu. Priya Prakash Varrier's wink has ensured the video of Manikya Malaraya Poovi posted on YouTube has been watched 4.9 lakh times and counting.

Watch the video clip here:





Oru Adaar Love is scheduled to release on March 3.