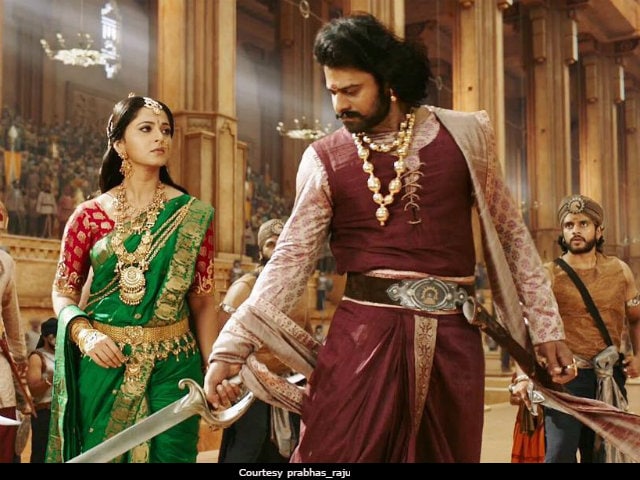 Highlights
'Will die trying to do another Baahubali kind of film,' said Prabhas
'It's not a film that can be easily replicated,' he added
'I believe only Rajamouli has the experience,' Prabhas also said
New Delhi:
It appears that actor Prabhas only trusts S S Rajamouli to make a film of such an ambitious stature as Baahubali,
the two-part epic drama
that Prabhas and the rest of the cast and crew have spent over four years making. Given the opportunity to star in another film mounted the same grand scale, Prabhas says he'll pass, thank you very much, reports
Hindustan Times
. Prabhas also adds that
Baahubali
is not something that can be easily remade and that any film of such ambition as
Baahubali
can only be pulled off by Rajamouli, HT reports. The 37-year-old actor said: "I will die trying to do another Baahubali kind of film. It's not a film that can be easily replicated. I believe only Rajamouli has the experience and vision to handle projects on such scale,"
Hindustan Times
reports.
Prabhas returns to play Mahendra Baahubali
in this month's
Baahubali: The Conclusion
, which is the sequel of the 2015 film. He also features in the role of Amarendra Baahubali, the former king of the mythological kingdom of Mahishmathi, which is the character he played in
Baahubali: The Beginning
. Earlier, it was revealed that Prabhas' physique constantly fluctuated for four years and that he also weighed as much as 100 kilos at some point. The committed but very modest Prabhas told
Hindustan Times
that his biggest contribution to the project was investing his time. "It was a privilege to work on a movie of international standards. I owe everything to Rajamouli because this is his dream and I merely supported him by taking out time,"
Hindustan Times
quoted Prabhas as saying.
Meanwhile, Karan Johar is also reportedly trying to rope Prabhas in for a Bollywood project, expected to be helmed by S S Rajamouli. "Karan has been encouraging Rajamouli to do a Hindi film after Baahubali. They will team up to launch Prabhas in Bollywood,"
DNA
quoted a source as saying. However, there is no official announcement from Prabhas or the 44-year-old filmmaker, whose Dharma Productions is in charge of distributing the Hindi version of
Baahubali 2
.
Baahubali: The Conclusion
is scheduled for April 28 and
promises to reveal the secret behind Katappa slaying Baahubali
.