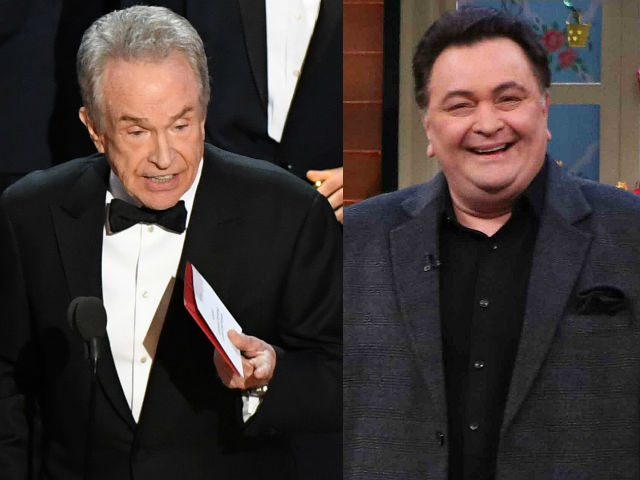 Highlights
'That was the most hysterical goof up in the history of Oscars,' says KJo
'I just can't believe what happened at the Oscars,' Shabana Azmi wrote
Moonlight won the Best Film Oscar, not La La Land
New Delhi:
Poor
Warren Beatty is being ridiculed on Twitter
after
La La Land
was mistakenly announced as the winner of the Best Film Oscar at the 89th Academy Awards. The producers of
La La Land
were midway through the thank you speech when the 79-year-old actor returned to stage to drop a bombshell - he had been given the wrong envelope and it was
Moonlight
that had won Best Film, not
La La Land
. Umm, oops?
La La Land had won
Best Director, Best Actress and four other Oscars - but not Best Film. It was exactly the sort of moment that social media lives for.
The Oscars are broadcast in India at 7 am and Bollywood was clearly awake and watching. Rishi Kapoor, Karan Johar and Shabana Azmi were the first to comment on Twitter.
OSCARS. Shit happens at Oscars too!

— Rishi Kapoor (@chintskap) February 27, 2017
That was the most ridiculous and hysterical goof up in the history of the academy awards!!!!! #oscarbooboo

— Karan Johar (@karanjohar) February 27, 2017
First you bore us with a bland and boring ceremony...then you mess up the most important modality!!! #oSCAR

— Karan Johar (@karanjohar) February 27, 2017
What?!! I just cant believe what happened at the Oscars !!!

— Azmi Shabana (@AzmiShabana) February 27, 2017
#Oscars saving the best moment for last!At least this doesn't happen in our award shows.. we just give to whoever is still there in audience

— Farah Khan (@TheFarahKhan) February 27, 2017
Did this really happen?!! #Oscars#lalaland#moonlight

— Saiyami Kher (@SaiyamiKher) February 27, 2017
OMG!!!!! It happened in OSCARS announce a wrong winner for the #thebestpicture#Moonlight vs #lalaland@TheAcademy#Oscars2017

— sonu sood (@SonuSood) February 27, 2017
La La Land
missed out the Best Film trophy but it did take home six prizes including Best Actress for Emma Stone, who competed against the likes of Meryl Streep and Natalie Portman. The film was nominated in 14 categories, the highest so far with
Titanic
and
All About Eve
. Casey Affleck won the Oscar for Best Actor for his performance in
Manchester By The Sea
. Viola Davis (
Fences
) and Mahershala Ali (
Moonlight
) were tipped for the Best Supporting Actor awards and did win.
Moonlight
won a total of three awards, the second highest number at the 89th Academy Awards. The film's third win was for Best Adapted Screenplay.
The 89th Academy Awards were held in Los Angeles' Dolby Theatre on Sunday (Monday morning in India). Talk show host Jimmy Kimmel hosted the awards ceremony for the first time.