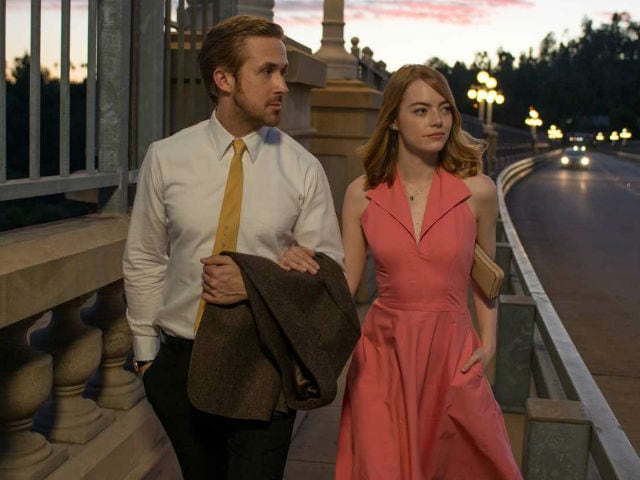 Highlights
La La Land received 14 nominations
Meryl Streep scored her 20th nomination
Oscars will be aired on television on February 26
New Delhi:
The nominations for the Academy Awards contained little or no surprises. Musical
La La Land
leads the list of Oscar nominees with 14 nods, including in the Best Actor, Actress, Director and Film categories.
La La Land
now ties with
Titanic
and
All About Eve
as the most nominated film in Oscar history. The film, starring Ryan Gosling and Emma Stone, swept the Golden Globes some weeks ago, with seven wins. Meryl Streep scored her 20th nomination - she's up for Best Actress for her performance in
Florence Foster Jenkins
. Indian-origin actor Dev Patel is competing in the Best Supporting Actor category for his film
Lion
. The Oscar nominations were revealed in the form of a video package, with previous nominees like Jennifer Hudson and Terrence Howard making the announcements. The Oscars will be held in Los Angeles on February 26, which is early the next morning for India. Jimmy Kimmel will host.
Here is the complete list of nominees:
Best Picture
La La LandArrivalLionHidden FiguresHacksaw RidgeFencesHell Or High WaterManchester By The SeaMoonlight
Best Director
Dennis Villeneuve,
Arrival
Mel Gibson,
Hacksaw Ridge
Damien Chazelle,
La La Land
Kenneth Lonergan,
Manchester By The Sea
Barry Jenkins,
Moonlight
Best Actress
Emma Stone,
La La Land
Natalie Portman,
Jackie
Amy Adams,
Arrival
Meryl Streep,
Florence Foster Jenkins
Isabelle Huppert,
Elle
Best Actor
Ryan Gosling,
La La Land
Casey Affleck,
Manchester By The Sea
Andrew Garfield,
Hacksaw Ridge
Viggo Mortensen,
Captain Fantastic
Denzel Washington,
Fences
Supporting Actor
Dev Patel,
Lion
Jeff Bridges,
Hell Or High Water
Mahershala Ali,
Moonlight
Lucas Hedges,
Manchester By The Sea
Michael Shannon,
Nocturnal Animals
Supporting Actress
Viola Davis,
Fences
Naomie Harris,
Moonlight
Nicole Kidman,
Lion
Octavia Spencer,
Hidden Figures
Michelle Williams,
Manchester By The Sea
Foreign Language Film
Land Of MineA Man Called OveThe SalesmanTannaTori Erdmann
Animated Feature
Kubo and the Two StringsMoanaMy Life as a ZucchiniThe Red TurtleZootopia
Film Editing
ArrivalHacksaw RidgeHell or High WaterLa La LandMoonlight
Production Design
ArrivalFantastic Beasts and Where to Find ThemHail Caesar! La La LandPassengers
Adapted Screenplay
ArrivalFencesHidden FiguresLionMoonlight
Original Screenplay
Hell or High WaterLa La LandThe LobsterManchester by the Sea20th Century Women
Original Score
JackieLa La LandLionMoonlightPassengers
Original Song
Audition
from
La La LandCan't Stop the Feeling
from
TrollsCity of Stars
from
La La LandEmpty Chair
from
Jim: The James Foley StoryHow Far I'll Go
from
Moana
Visual Effects
Deepwater HorizonDoctor StrangeThe Jungle BookKuboStar Wars: The Rogue One
Cinematography
Bradford Young,
Arrival
Linus Sandgren,
La La Land
Greig Fraser,
Lion
James Laxton,
Moonlight
Rodrigo Prieto,
Silence
Documentary Short Subject
Dan Krauss,
Extremis
Daphine Matziaraki,
4.1 Miles
Kahane Cooperman and Raphaela Neihausen,
Joe's Violin
Marcel Mettlesiefen and Stephen Ellis,
Watani: My Homeland
Orlando Von Einsiedel and Joanna Natasegara,
The White Helmets
Documentary Feature
Gianfranco Rosi and Donatella Palermo,
Fire At Sea
Raul Peck, Remi Grellety and Herbert Peck,
I Am Not Your Negro
Robert Ross Williams and Julie Goldman,
Life, Animated
Ezra Edelman and Caroline Waterlow,
OJ Made in America
Ava Duvernay, Spencer Averick And Howard Barish,
13th
Costume Design
AlliedFantastic Beasts and Where to Find ThemFlorence Foster JenkinsJackieLa La Land
Sound Editing
ArrivalDeep Water HorizonHacksaw RidgeLa La LandSully
Sound Mixing
ArrivalHacksaw RidgeLa La LandStar Wars: The Rogue One13 Hours
Makeup & Hairstyling
A Man Called OveStar Trek BeyondSuicide Squad
Live Action Short Subject
Enenemis InterieursLa Femme et le TGVSilent NightsSingTimecode
Animated Short Film
Blind VayshaBorrowed TimePear Cider and CigarettesPearlPiper