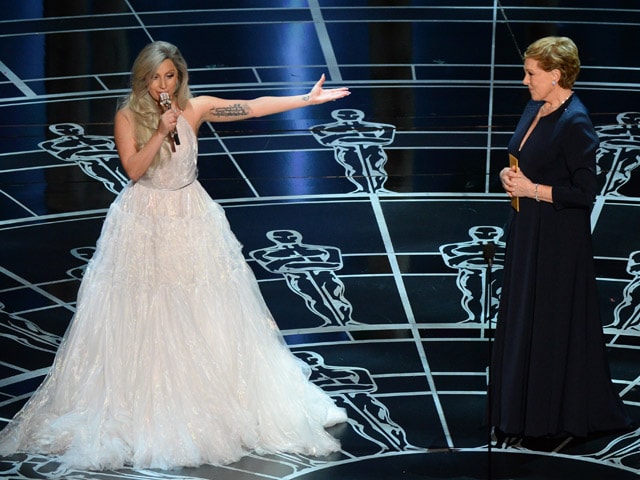 Los Angeles:
The Academy Awards hailed the 50th anniversary of its all-time greatest musical, recruiting Lady Gaga to gracefully sing a medley of memorable tunes from The Sound of Music.

Starring Julie Andrews and Christopher Plummer, the cinematic tale of the musical von Trapp family in Austria and their mischievous governess is a Hollywood classic.

In contrast to her own flamboyant concerts, Lady Gaga was all about the voice as she sang highlights from the beloved 1965 movie to the accompaniment of a string combo and a choir. (Also Read: Birdman Takes Flight. 4 Wins, Including Best Film and Director)

She then gave way to Andrews, 79, to announce the winner of the Oscar for best original score -- Alexandre Desplat, for The Grand Budapest Hotel."

"Dear Lady Gaga, thank you for that wonderful tribute. Oh my god, it really warmed my heart," said the British-born thespian. (Also Read: How It Happened)

Looking back at the making of The Sound of Music, Ms Andrews said it was "really hard to believe" that a half-century had passed.

"I blinked, and suddenly here I am," she said.

Those involved in making the picture, she said, "all really felt blessed to have been a part of it. As for me, how lucky can a girl get?"

"It's a very special tribute performance," Lady Gaga - wearing a white Azzedine Alaia gown - told ABC television earlier.


"I really put my heart into preparing for it," said the 28-year-old singer-songwriter.
The Sound of Music
collected five Oscars in 1965, including best picture and best director.
Andrews was nominated for best actress, an honor she won the year before for
Mary Poppins
, only to lose to Julie Christie in
Darling
.
Directed by Robert Wise,
The Sound of Music
brought to the silver screen the eponymous 1959 hit Broadway musical.
Several of its Richard Rodgers and Oscar Hammerstein songs -- like "Edelweiss," "My Favorite Things," "Do-Re-Mi" and the title track -- are enduring classics.
Based on Maria von Trapp's published memoirs, the film -- largely fictionalized, as Wise duly warned the family in advance -- remains the highest grossing musical of all time.
The von Trapps left Austria soon after its annexation by Nazi Germany, eventually settling in the US state of Vermont, where they opened an Alpine resort that remains in family hands.