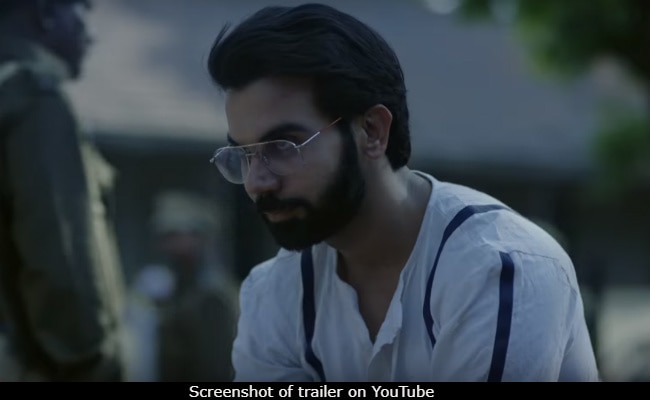 Highlights
Rajkummar Rao plays an antagonist for the first time
Rajkummar Rao plays the role of terrorist Omar Saeed
Omerta releases on April 20
New Delhi:
The much-awaited trailer of Rajkummar Rao's
Omerta
is finally here and looks pretty impressive - just like any other Hansal Mehta-Rajkummar Rao collaboration, actually.
The 33-year-old actor plays the role of dreaded terrorist Omar Saeed Sheikh
and he does a pretty convincing job. His portrayal of the character will indeed give you goosebumps and send chills down your spine. The trailer documents Omar Saeed's journey from starting off as a fundamentalist to becoming the mastermind behind heinous acts of terrorism. The trailer is a thrilling collage which weaves together glimpses from inside a Jihadi training camp and cold blooded murders to kidnapping and high-octane chases, all featuring Rajkummar Rao as Omar Saeed.
The trailer also makes references to the 1994 Delhi kidnappings, the 9/11 World Trade Centre attack, the Daniel Pearl kidnapping and the 26/11 terror attacks in Mumbai. Rajkummar Rao, who plays an antagonist for the first time, said in a statement released by the makers: "Omerta is among the most researched films that I have worked on till date. We actually visited some of the places frequented by Omar in London during his transformation from an LSE graduation student to becoming this deadly terrorist. I needed to feel and touch this man's past - to ingest him."
Rajkummar added that: "It was not an easy journey for me to take. With Omerta and Hansal Sir, we have a combination that will probably leave you stunned. There will be this moment of shock and silence as the end credits roll." The movie has been shot in locations across London and India with recreated versions of Afganistan and Pakistan.
Watch the trailer of
Omerta
here:
Director Hansal Mehta added in the statement that he wants to leave the viewers with a sense of hate and disgust: "Omerta takes a look at this complex paradox of a man called Omar Saeed Sheikh. It was a difficult subject to choose and a challenge to make. However, with an actor like Rajkummar, no challenge seems insurmountable and this was the ideal film to hurtle us out of our comfort zone to make something that is uncomfortable. But that is the burden of truth - it is uncomfortable and it must be faced. The film looks at what it means to be a fundamentalist and for someone to pick up a gun with the intent of killing in return for an afterlife in Paradise. I want to leave the viewer with a sense of awe, disgust, hate, surprise and let them examine the ramifications of these events on their lives today."
Omerta
premiered to huge critical appreciation at the Toronto International Film Festival 2017. It was also screened at the Busan International Film Festival and the Mumbai Film Festival last year.
Omerta
releases on April 20.