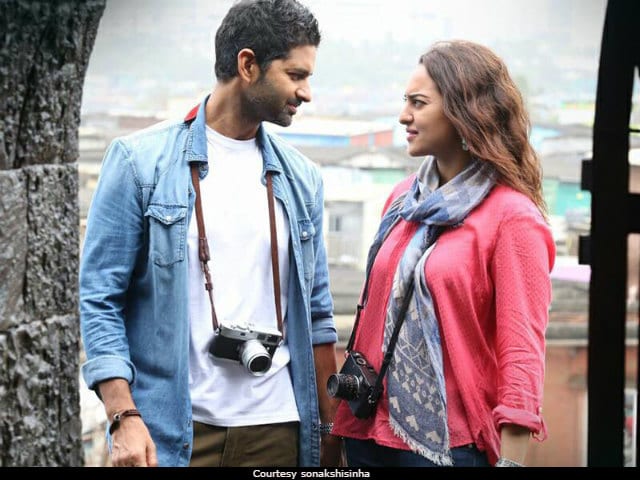 Highlights
Sonakshi co-stars with Purab Kohli, Kanan Gill in the film
Sonakshi stars as a journalist in Noor
This is Sonakshi's first film after Force 2
New Delhi:
Sonakshi Sinha is all set to arrive at the theatres with her new film Noor
tomorrow. This is Sonakshi's last film after last year's action thrillers
Force 2
and
Akira
. Sonakshi, 29, stars as a bumbling journalist Noor and portrays the everyday struggles of a reporter's routine life. The trailer of
Noor
features Sonakshi as a happy-go-lucky character, who is delighted by the simple joys of life but lives in the constant fear of her workaholic boss. At the trailer launch event of the film, she said: "
Noor
is really close to my heart. When the story was narrated to me, the script and the character strongly appealed to me."
Talking about
Noor
, Sonakshi told news agency IANS that she's happy to have headlined the film herself and that she feels "liberated." "
I don't know whether it is difficult or easy, but I feel liberated
when I promote the film. I felt this at the time when I was promoting Akira. I don't have to depend on anybody to carry this film. I have a solid team to support and other than this, I don't need anybody else. I feel like I am independent, strong and moving ahead with my team. This is the best feeling that I can carry a film on my own shoulders," IANS quoted Sonakshi as saying.
Noor
recently made headlines for its encounter with the
Central Board Of Film Certification, who demanded that the word 'Dalit' be changed and the term 'sex symbol' be replaced
with 'adult sites.' However, director Sunhil Sippy confirmed that the CBFC suggested changes and cuts did not affect the main narrative.
In
Noor
, Sonakshi Sinha co-stars with Purab Kohli, Kanan Gill and Shibani Dandekar.
(With IANS inputs)