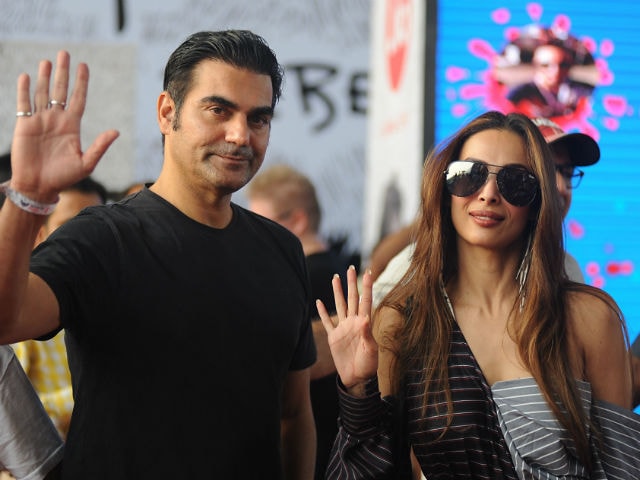 Highlights
Malaika and Arbaaz are parents to son Arhaan
"We don't have to prove anything to anybody," says Malaika
"Arbaaz is very important to me," added Malaika
New Delhi:
In her first in-depth interview since divorcing husband
Arbaaz Khan, actress Malaika Arora
has spoken candidly to
mid-day
about how the former couple are still a family unit and why personal equations between Arbaaz and her folks remain unchanged. Malaika, 43, and Arbaaz, 50, announced last year they were separating after 18 years married and were granted a divorce this year in May. They are often spotted together at social events, go on holiday with each other's families, and were photographed with 15-year-old son Arhaan at Justin Bieber's concert in Mumbai a day before the divorce was finalized. Speaking to mid-day, Malaika Arora, who still uses Khan in her surname on Instagram, revealed how close she and Arbaaz still are.
Malaika told
mid-day
, "Arbaaz is a part of my family, the father of my child. Certain equations don't change overnight. The things that happened should remain between us. It's personal. We don't have to prove anything to anybody. Meeting (Arbaaz Khan) makes my son happy, and that makes me happy."
The f
ormer couple have also managed to preserve the dynamic with other family members
. "For Amrita, he's like a brother, and he is a son to my parents. What happened is between us," Malaika Arora told
mid-day
.
Last weekend, Arbaaz Khan turned 50.
A grand party was hosted by the family, including Malaika
, in Mumbai. Malaika also posted some pictures from midnight celebrations and wished him 'happiness.'
Breaking up was hard, no matter how amicable things might seem now. "Arbaaz and I have known each other all our lives. It was emotionally difficult, but we haven't really talked about it because we are private individuals. He is very important to me. No matter what happens or where life takes us, Arbaaz will always be integral to my life," Malaika told
mid-day
, adding that son Arhaan has coped well because he is 'focused and level-headed.'
Life has changed, Malaika said, and reveals that she turns to her friends for help through low periods. "Separation is never easy on anybody. Only those who encounter it understand it," she said.
Arbaaz Khan is believed to be dating again but Malaika's priorities don't currently include romance. "I have not thought about it. I am enjoying each day as it comes. I enjoy time at home, my day-to-day life, travelling with Arhaan. We have just returned from a beautiful holiday," she told
mid-day
.
Last week,
Malaika responded unexpectedly to a troll who dismissed her as a gold-digger
who divorced Arbaaz for the alimony. "I do not indulge in such conversation because it's below my dignity, but I just had to because you certainly got to get your damn facts right before spewing shit and slagging me off when you know nothing about me except sit and pass judgement on other people's life," she wrote in response to the troll's comments.
Malaika Arora, a former model, has appeared in song sequences in several films, many of them starring or made by Arbaaz and his brother Salman Khan. She currently co-curates the fashion e-store The Label Life with Sussanne Khan.