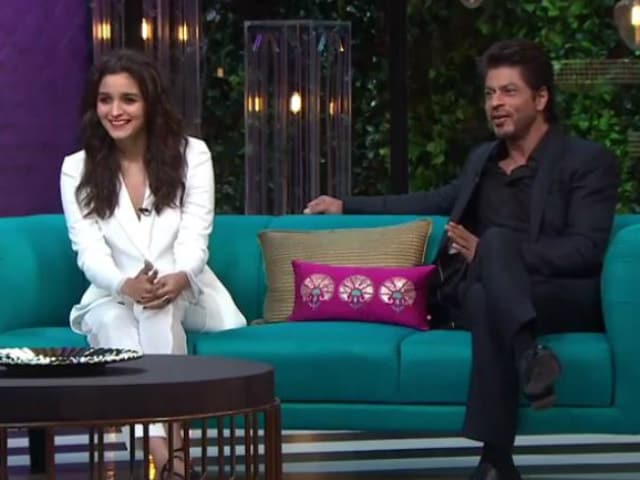 Highlights
Koffee With Karan premiered with Shah Rukh, Alia on November 6
Shah Rukh and Alia Bhatt will soon be seen in Dear Zindagi
This is the first time that SRK, Alia appeared on the show together
New Delhi:
Shah Rukh Khan and Alia Bhatt finally sipped
Koffee With Karan
on the premiere of the show's fifth season. Karan Johar kick-started the much-loved yet much-talked-about show with a short introduction to the "new" elements that we can expect this season - with his guests contributing with "new lover, new enemies, new controversies" on their part.
A very cheeky concoction of
Shah Rukh, Alia
and Karan was proof that a lot can indeed happen over coffee. They laughed at, joked about and discussed topics ranging from Alia's first boyfriend and career to Karan's secretive nature and the one time that Shah Rukh was really disappointed with Alia. Shah Rukh also opened up about the time when Hema Malini said she "didn't like" him dancing in 1992 film
Dil Aashna Hai
.
Karan had a new Ellen DeGeneres-inspired game up his sleeve, in which Shah Rukh read out the recipe of Butter Chicken with the most sensuous of expressions and Alia? Oh, she was reading the financial news like a sixties' heroine in distress!
We have also sampled some of the conversations for you. Yes, you can thank us later:
Alia: I'm a very secretive person.
Karan: Really? When did that happen?
Karan: Who do you think Alia is dating?
Shah Rukh: Everybody
Karan: Would you kill the person who kissed you daughter?
Shah Rukh: I'd rip his lips off
Also, one cannot miss Alia's reaction when Karan suggested that she should get rid of her "being single" tag now.
Shah Rukh, who co-stars with Alia in
Dear Zindagi
, termed Alia as "one of the finest actors of the generation." He also added: "Alia is too good too soon. I don't want her to get trapped in just doing great acting without experiencing everything in Indian cinema. If you become too good too soon, you may have inhibitions being bad at times. It's really wonderful to be bad at times." Meanwhile, Alia had only word to describe working with the superstar - "surreal".
Shah Rukh, who plays life guard to Alia's character in
Dear Zindagi
, also introduced a new word to describe Alia's though process - "demotional = detached but emotional".
Shah Rukh took the hamper home for winning the Rapid Fire Round but Alia beat him hands down at the General Knowledge buzzer round.
And that's exactly when Shah Rukh pointed out that President Pranab Mukherjee "changed" Alia's life.
Shah Rukh and close friend and frequent co-star Kajol inaugurated
Koffee With Karan
with its maiden episode on November 19, 2004. Since then, Shah Rukh has appeared in all seasons barring 2013's season 4. The talk show, which has often been the subject of headlines for its controversial nature,
has featured Bollywood big names
like Amitabh Bachchan, Akshay Kumar, Aamir Khan, Salman Khan, Priyanka Chopra and Deepika Padukone. Alia, who was directed by Karan in her debut
Student Of The Year
, appeared in two episodes from last season.
Shah Rukh Khan and Alia Bhatt's
Dear Zindagi
is directed by Gauri Shinde and releases on November 25.