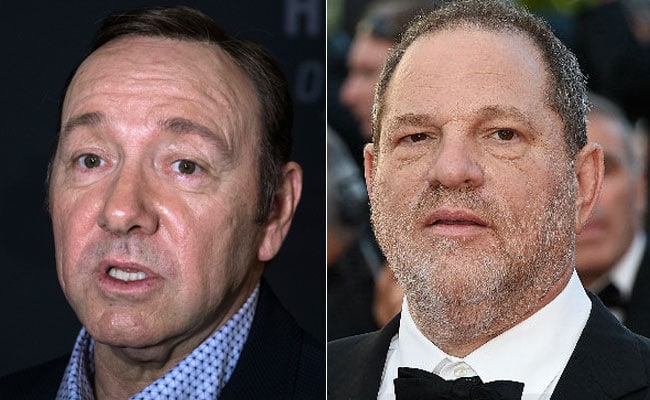 Highlights
Around 100 women have accused Weinstein of sexual misconduct
Spacey is reportedly being investigated by British police for assault
Kevin Spacey's publicist and talent agency have dropped him
New York:
Hollywood's explosive sexual harassment scandal
deepened Friday as New York police revealed they were gathering evidence for a possible arrest warrant against Harvey Weinstein in a credible double rape allegation.
Weinstein, once one of the most powerful men in Hollywood, and
Oscar-winner Kevin Spacey are the most high-profile scalps
in a month-long torrent of allegations bringing down like dominoes male power players from the worlds of politics, finance, entertainment and journalism.
Around 100 women have come forward since early October to accuse Weinstein
, a twice-married father of five, of sexual misconduct ranging from harassment to rape, sparking police investigations in London, Los Angeles and New York.
On Friday, a top Manhattan detective confirmed that officers were gathering evidence for a possible arrest warrant over Weinstein's alleged double rape of
Boardwalk Empire
actress Paz de la Huerta at her New York apartment in late 2010.
"She put forth a credible and detailed narrative to us," NYPD Chief of Detectives Robert Boyce told reporters. The former producer, now dumped by the company he co-founded and ostracized by Hollywood, denies any non-consensual relations.
"If this person was still in New York and it was recent, we would go right away and make the arrest, no doubt. But we're talking about a seven-year-old case and we have to move forward in gathering evidence first," said Boyce.
"We have an actual case here," he added. "Mr Weinstein is out of state. We would need an arrest warrant to arrest him. So right now we're gathering our evidence. We continue to do so. Every day."
It is at least the third Weinstein case New York police have investigated in recent years, and Boyce did not rule out others.
The Manhattan district attorney's office confirmed it had assigned a senior sex crimes prosecutor to the case.
Spacey, whose once glittering acting career is now also in serious jeopardy, is reportedly being investigated by British police for assault in 2008, accused of attempting to rape a 15-year-old boy in New York and of making advances on a 14-year-old.
British police said only that they had opened an investigation into an allegation from a man of sexual assault in 2008. Officers do not publicly identify the subject of an inquiry unless they are charged, but British media said it was Spacey.
London investigation
"Officers from the Child Abuse and Sexual Offences Command are investigating," said a spokesman for London's Metropolitan Police, giving no further details.
Spacey's publicist and talent agency have dropped him, and he has made no public comment other than declaring that he was "beyond horrified" by the first allegation from actor Anthony Rapp, which he claimed not to remember.
Eight current or former employees on Netflix hit series
House of Cards
told CNN that Spacey turned the set into a "toxic" environment through a pattern of sexual harassment of younger, male crew members.
It was a stunning fall for an actor who chilled and thrilled audiences in equal measure in memorable roles such as corrupt US president Frank Underwood in
House of Cards
, a midlife-crisis-ridden father in
American Beauty
and as a serial killer in
Seven
.
Netflix and
House of Cards
production company, MRC, said they were previously aware of only one complaint against Spacey, in 2012, but that it had been resolved.
The award-winning show, of which Netflix had already announced the upcoming sixth season would be its last, now hangs in the balance.
MRC said it was "deeply troubled" by the latest allegations, implemented a complaint hotline and offered crisis counselors and legal advisors to the crew, and would "thoroughly investigate" all claims formally brought to its attention.
Rapp opened the floodgates by saying the actor tried to "seduce" him and lay on top of him when he was 14-years-old at Spacey's New York apartment 31 years ago.
A 48-year-old East Coast artist told Vulture he began a sexual relationship with Spacey when he was 14 that ended when he was 15 after the actor, then 24, allegedly tried to rape him.
"It seems the only requirement was to be a male under the age of 30 for Mr Spacey to feel free to touch us," said Mexican actor Roberto Cavazos, who claimed he fended off "unpleasant" advances while at The Old Vic, the London theater where Spacey was artistic director from 2003-2015.
"It wouldn't surprise me if there were similar numbers to Weinstein's."
(This story has not been edited by NDTV staff and is auto-generated from a syndicated feed.)