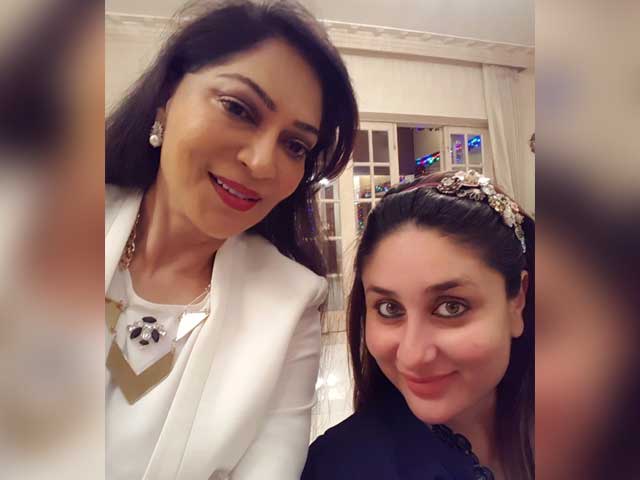 Highlights
Simi Garewal tweeted the pictures on December 16
Simi Garewal also met Krishna Raj Kapoor
Kareena also met her Mera Naam Joker co-star
New Delhi:
Mom-to-be actress Kareena Kapoor Khan is in her final trimester now and is expecting her first child with husband, actor Saif Ali Khan. Baby is reportedly expected to arrive around December 20 or thereabouts. During pregnancy, Kareena has caught up with friends,
made appearances at lunch dates and parties
, and even worked on her upcoming projects. On December 16, she hung out with former actress and TV show host Simi Garewal, who shared lovely pictures on social media. Kareena was glowing and pretty in a no make-up look. Kareena's selfie-special expression is the cutest thing you'll see today. "With a mom-to-be...any minute now! My lovely Bebo!" is how Simi Garewal captioned it.
Wow, so pretty:
With a mom-to-be...any minute now! My lovely Bebo! @Kapoor_Oficialpic.twitter.com/TRKVHH8bOC

— Simi Garewal (@Simi_Garewal) December 16, 2016
Simi Garewal loves the front camera and the feeling is mutual. She also roped in 'impatient' dad-to-be Saif Ali Khan:
..And a Dad-to-be..waiting (im)patiently..as we all are! @SaifOnlinepic.twitter.com/bou7xerDhb

— Simi Garewal (@Simi_Garewal) December 16, 2016
Kareena and company
were also accompanied by Kapoor family headliner, Kareena's grandmother Krishna Raj Kapoor. Here's one selfie with the Kapoor veteran as well.
With the true First Lady of Bollywood. Krishna-ji. The most superb hostess - ever! Gracious & caring. I love her so much. God bless her pls pic.twitter.com/1cd8jEifwj

— Simi Garewal (@Simi_Garewal) December 16, 2016
It seems that Simi Garewal caught up with the Kapoors to celebrate 46 years of Raj Kapoor's cult film
Mera Naam Joker
. The intimate get-together was also attended by Russian ballet artiste and actress Ksenia Ryabinkina, who co-starred in the 1970 movie with Simi Garewal. Ksenia Ryabinkina played a trapeze artiste in the 1970 movie which cast Raj Kapoor as circus clown Raju. In
Mera Naam Joker
Simi Garewal starred as a teacher, Mary, who Raj Kapoor's character was infatuated with during adolescence. After six years of filming,
Mera Naam Joker
finally released on December 18 in the year 1970.
Ksenia Ryabinkina in a sneak peek:
The party was ostensibly for Ksenia Ryabinkina - and here she is - peeking in on the right! pic.twitter.com/hZSwJtfxjY

— Simi Garewal (@Simi_Garewal) December 16, 2016
Mera Naam Joker
co-stars minus Saif:
Finally with the Guest of Honour! Russia's Ksenia Ryabinkina. Lovely to meet her after decades. Remember her? The trapeze artist in Joker! pic.twitter.com/LwRX4Iq4XQ

— Simi Garewal (@Simi_Garewal) December 16, 2016
Meanwhile, Kareena Kapoor
is slaying pregnancy fashion
like a boss. Earlier this week, she was spotted hanging out with her sister Karisma Kapoor and best friend Amrita Arora outside a restaurant in Bandra, Mumbai. Kareena looked chic and smart in a Bhane shirt and black pants.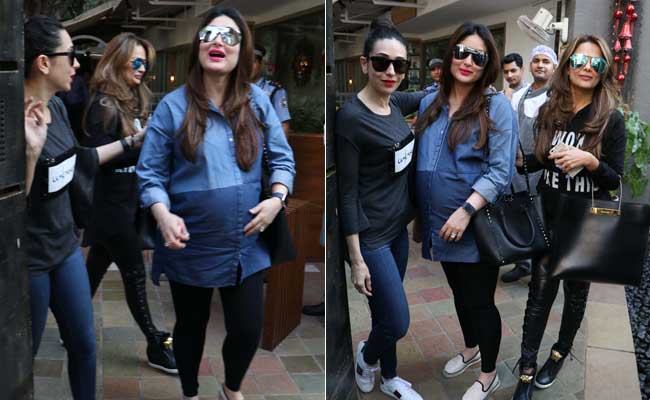 Kareena Kapoor worked during pregnancy for chick-flick
Veere Di Wedding
, co-starring Sonam Kapoor and Swara Bhaskar which is expected to hit screens sometime next year. Saif Ali Khan's new film
Rangoon
also opens next year. Directed by Vishal Bhardwaj,
Rangoon
also stars Shahid Kapoor and Kangana Ranaut.
Last month, Saif released a statement rejecting
rumours of a gender test
. He also said the baby would not (obviously) be called 'Saifeena,' the name that was given to the couple when they began dating. "I want to let everyone know that we have not yet had our child and we still don't know the sex of the child. We will not be having our child in London and the name of the child will definitely not be called 'Saifeena'," Saif said, reported news agency IANS.
Kareena Kapoor Khan, 36, married Saif Ali Khan, 46, on October 16, 2012. Saif was married to and divorced from actress Amrita Singh and has two children with her - daughter Sara and son Ibrahim.