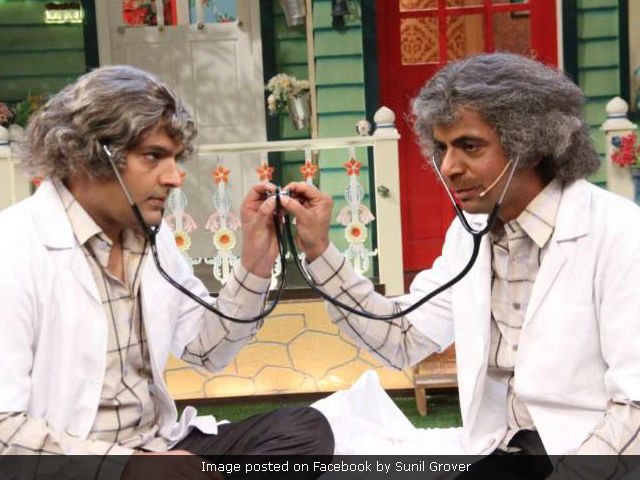 Highlights
"I am retired hurt," Sunil Grover tweeted back to Rishi Kapoor
Kapil Sharma allegedly assaulted Sunil Grover on a plane
Sunil Grover has since quit The Kapil Sharma Show
New Delhi:
Actor Rishi Kapoor has joined the legion of fans pleading for warring comedians
Kapil Sharma and Sunil Grover to reunite
. "
Mil jao yaaron
," urged the 64-year-old actor in an IPL-themed tweet on Monday night. He received the comeback of the year from Sunil Grover, who responded: "Sir, I am not playing this season because I am retired hurt." Which just goes to show that even quip-a-minute Rishi Kapoor can be bested when it comes to one-liners. Mr Grover, 39,
has turned his back on The Kapil Sharma Show
, on which he played the popular characters Dr Mashoor Gulati and Rinku Bhabhi, after allegedly being assaulted with a shoe on a flight by his former colleague and series headliner Kapil Sharma.
Here's the exchange between Rishi Kapoor and Sunil Grover:
@chintskap@KapilSharmaK9 Sir, I am not playing this season coz I am retired hurt. Best Regards.

— Sunil Grover (@WhoSunilGrover) April 17, 2017
No response yet from Kapil Sharma
, who is accused of behaving badly while drunk on a plane out of Melbourne last month. Mr Sharma, according to eyewitnesses who spoke to various media outlets, flew into a rage when his cast mates from
The Kapil Sharma Show
began eating their in-flight meals while he was still finishing his drink. He allegedly began railing at his team, then at Mr Grover who intervened, and then allegedly hit him with a shoe.
It was all south from there. Sunil Grover has resolutely refused
to return to The Kapil Sharma Show
, writing in a tweet that it was about dignity and not money, possibly in response to reports that he was being wooed back with a pay hike. Mr Grover responded to an apology from Mr Sharma with a rebuke about 'acting like God.' Since quitting (which hasn't been made official), he has performed at a live show in New Delhi, on the finale of reality show Indian Idol 9, and provided live commentary of an IPL match for an app.
Kapil Sharma, who recently celebrated his 36th birthday, is believed to have abandoned attempts to repair his partnership with Sunil Grover. His series has been given a month's extension by the TV channel that airs it and has added comedian Raju Srivastava to its line-up.