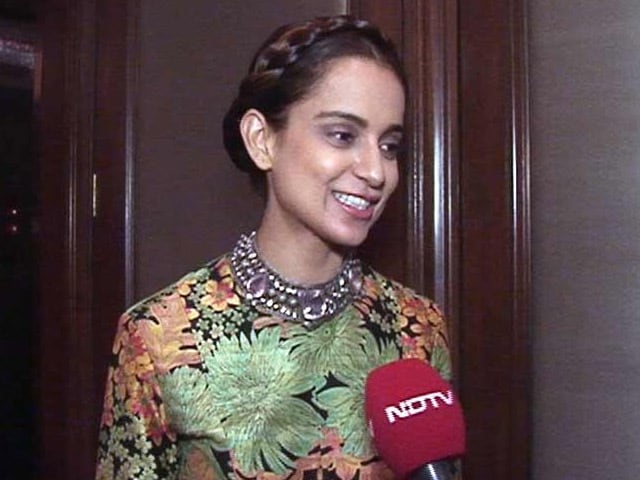 New Delhi:
Actress Kangana Ranaut's simplicity and honesty are endearing. The actress, who won the Best Actress National Award for her role in Queen recently, says that she is not a role model and doesn't aspire to be one either.

"I was not anticipating this award. It came as a surprise and it's an honour I cherish. National Film Award is for talent, unlike commercial awards, which are TRP driven and based on commercial factors, item songs, lewd jokes and affairs," said the actress cheekily. (Also Read: Priyanka Chopra Hails 'Small Town Girl' Kangana Ranaut)

Carrying Queen on her shoulders, Kangana said that Rs 200-crore films were important. After all Bollywood's larger-than-life persona and its dream merchants were whetted by these films. "But on the other hand you need these small films to maintain the equilibrium," she added.

But will women be at par with men in terms of remuneration? "Hopefully," said the actress.


When asked about the recent entanglements of the Censor Board, Kangana said that she felt the Board had taken a very superficial view. "They cannot just give out a list, but need to see the larger picture. For example, they said, 'Don't show violence against women', but what if you're adapting
Macbeth
. How are you to depict the scenes and it will not happen therefore is a bit premature." (Also Read -
National Awards: Kangana Ranaut Wins Best Actress, Queen is Best Hindi Film
)
When asked if she could relate to Rani, her character in
Queen
, Kangana said, "Not at all. Rani is under confident and unsure. I am none if those."
The actress, who is currently working on
Tanu weds Manu 2,
started a blog on her birthday calling herself a 'spring child'. "I love spring. I am a spring child," she said.
The actress with the springy curls sure seems to have a spring in her step these days.
Watch: