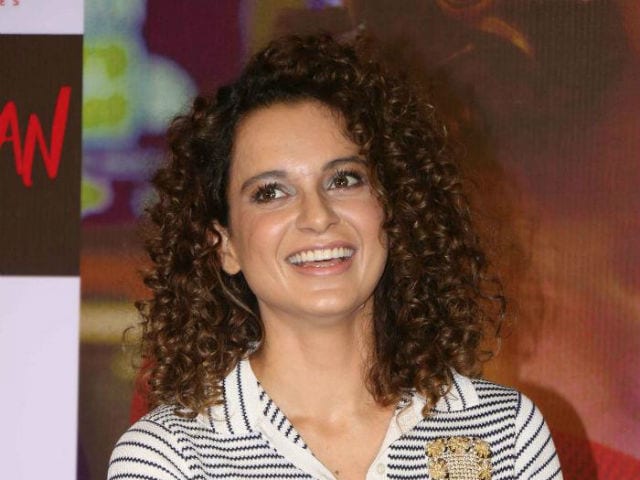 Highlights
"My journey has been quite different," said Kangana
Kangana said she doesn't fear being labelled as a rebel
Kangana: I'll take what is mine, be it by fighting or any other means
New Delhi:
Actress Kangana Ranaut talked about her journey in Bollywood at the trailer launch of her upcoming film
Simran
. The 31-year-old actress told the reporters that she had to 'fight hard to get everything in life,' reported news agency PTI. "The one aspect that is striking about my journey is that I have to fight for everything in life, even the smallest of the things. I don't know why it happens. Maybe it is my destiny but I have made peace with it," PTI quoted Kangana as saying. "My journey has been quite different. While flying to Mumbai for the conference, I was thinking about all sorts of questions that would be asked to me here. So I thought, 'Has my journey really been unusual or is it only me who thinks that way?,' she added.
Kangana Ranaut said that she doesn't fear being labelled as a rebel and that she will continue to fight for what she deserves.
"A lot of you might think, 'to be or not to be' but it is okay or like you guys use the word rebel,
ladaku
... I don't take offence to that... I will take what is mine, be it by fighting or any other means," PTI quoted the
Queen
actress as saying.
Recently, screenwriter Apurva Asrani alleged that Kangana has been unduly credited for 'additional story, screenplay and dialogue' for
Simran
. At the trailer launch,
Kangana clarified and said that it was Mr Asrani who suggested that she should take additional credits for the script
, reported IANS.
"First of all I want to make it clear that there are no dues pending. Somehow people make it look like Apurva has not been given his credit, that is not true. We made the contract exactly the way he wanted it to be, in fact, Apurva is the one who suggested me to take additional credit for dialogue writing. So we made the contract that way," news agency IANS quoted the
Krrish 3
actress as saying.
Last month, filmmaker Karan Johar along with actors Saif Ali Khan and Varun Dhawan took a jibe at Kangana during the IIFA award
s. The actress had branded KJo as the 'flag bearer of nepotism' on his show
Koffee With Karan
.
At the award function, the trio referenced their privilege as star kids and chanted 'nepotism rocks' in unison. After facing criticism on social media, they apologized for their remark.
Kangana Ranaut wrote an open letter post the incident
and said that she came across several articles discussing nepotism and she found some of them 'disturbing' (
Saif Ali Khan's open letter
was one of them, which defended the use of the terms "eugenics and genetics" in the context of nepotism).
"I fail to understand how you can compare genetically hybrid racehorses to artistes! Are you implying that artistic skills, hard-work, experience, concentration spans, enthusiasm, eagerness, discipline and love, can be inherited through family genes? If your point was true, I would be a farmer back home. I wonder which gene from my gene-pool gave me the keenness to observe my environment, and the dedication to interpret and pursue my interests," wrote Kangana.
Meanwhile, Kangana Ranaut's
Simran
is scheduled to release in theatres on September 15.
After
Simran
, she will feature in
Manikarnika: Rani of Jhansi
.
(With PTI and IANS inputs)