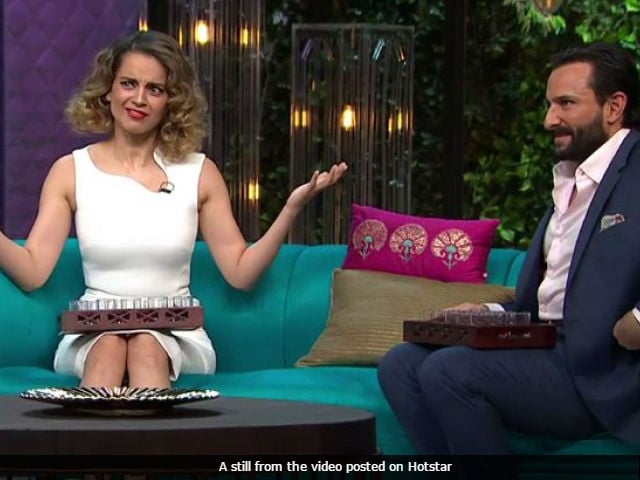 Highlights
Kangana says Saif Ali Khan's open letter was 'disturbing'
If Saif's point was true, I would be a farmer back home, said Kangana
Saif Ali Khan and Kangana Ranaut are co-stars of Rangoon
New Delhi:
Saif Ali Khan
compared star kids to race horses
in an
open letter
defending his stance on nepotism and a day later actress Kangana Ranaut slammed the comparison in her own open letter, which was published on Saturday in
mid-day
. Kangana, who is recuperating from a head injury she sustained while filming
Manikarnika: Rani Of Jhansi
, said she came across several articles discussing nepotism - the
debate resurfaced at an award show
recently - and she did find some of them 'disturbing' (and, Saif Ali Khan's open letter was one of them). "I fail to understand how you can compare genetically hybrid racehorses to artistes! Are you implying that artistic skills, hard-work, experience, concentration spans, enthusiasm, eagerness, discipline and love, can be inherited through family genes? If your point was true, I would be a farmer back home. I wonder which gene from my gene-pool gave me the keenness to observe my environment, and the dedication to interpret and pursue my interests," wrote Kangana.
Saif Ali Khan's open letter also defended the use of the terms "eugenics and genetics" in the context of nepotism (he said in an interview to
Firstpost
) and here too Kangana aptly said: "You also spoke of eugenics - which means controlled breeding of the human race. So far, I believe that the human race hasn't found the DNA that can pass on greatness and excellence. If it had, we would've loved to repeat the greatness of Einstein, Da Vinci, Shakespeare, Vivekananda, Stephen Hawking, Terence Tao, Daniel Day-Lewis, or Gerhard Richter."
Saif Ali Khan also said that media and public's interest in celebrities' children is one of the reasons for nepotism to exist in Bollywood. He wrote: "The real 'flagbearer of nepotism' (the term originally used by Kangana Ranaut for Karan Johar on his chat show
Koffee With Karan
), I'd say is the media. They photograph them (star kids) and hype them up to be the next big thing and the child has no choice."
Of the 'media-created hype' around star kids, Kangana said: "You are absolutely right - there is a lot of excitement and admiration for the lives of the rich and famous. So, should we make peace with nepotism? The ones who think it works for them can make peace with it. In my opinion, that is an extremely pessimistic attitude for a Third World country, where many people don't have access to food, shelter, clothing, and education. The world is not an ideal place, and it might never be. That is why we have the industry of arts. In a way, we are the flagbearers of hope."
Kangana also may have subtly replied to the
nepotism charge leveled against her
by
Simran
co-writer Apurva Asrani by saying: "Nepotism, on many levels, fails the test of objectivity and rationale. I have acquired these values from the ones who have found great success and discovered a higher truth, much before me. Today, I can afford to have the willpower to stand for these values, but tomorrow, I might fail, and help my own children realise their dreams of stardom. In that case, I believe that I would have failed as an individual. But the values will never fail. They will continue to stand tall and strong, long after we are gone."
In the beginning of her open letter, Kangana Ranaut said, "This is just a healthy exchange of ideas, and not a clash between individuals." So let's keep it like that. You can read Kangana Ranaut open letter
here
.
Kangana Ranaut and Saif Ali Khan worked together in Vishal Bhardwaj's
Rangoon
, which released in February.