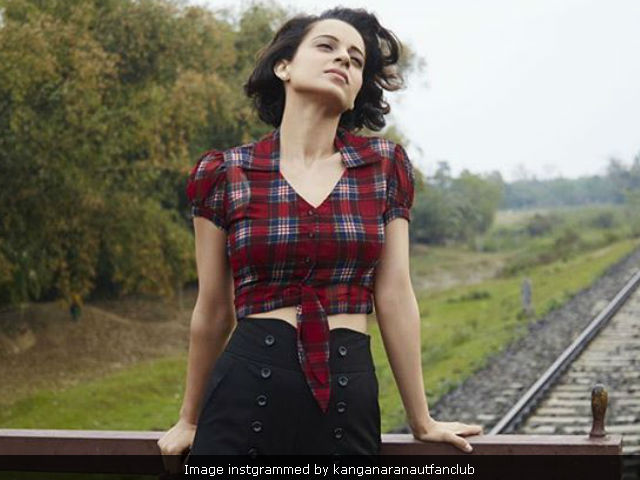 Highlights
Kangana and Hrithik's public feud made headlines for most of 2016
"I was told if I open my mouth, I will be finished," said Kangana
Kangana Ranaut stars in this Friday's Rangoon
New Delhi:
For much of 2016, actors Kangana Ranaut and Hrithik Roshan struggled to find equilibrium amid a corrosive exchange of public accusations and legal notices. Now, Kangana claims that she was threatened by the 'big people' of Bollywood and was warned to keep her own counsel over what she alleges was a love affair that ended acrimoniously. However, that's
a chapter she's now closed
, the
Rangoon
actress says. 'Done and dusted,' were her exact words. Kangana, 29, told news agency PTI, "I was called at big people's houses. I was told if I open my mouth, I will be finished. But it doesn't make any sense because that chapter is over for me. It is so done and dusted and it doesn't hold any relevance in today's time."
At the beginning of 2016, an interview in which Kangana Ranaut appeared to refer to Hrithik Roshan as a 'silly ex' enraged the actor, who sent her a legal notice demanding that she publicly retract and apologise. It was the start of a year-long feud. Kangana responded with a legal notice of her own and later
accused Hrithik of 'slut-shaming' her
by circulating private pictures. "I had that (low) phase also but it did not frighten or threaten me because I knew I was not doing anything wrong," Kangana told PTI of the months of recriminations.
The actors - who co-starred in the films
Kites
and
Krrish 3
- dispute an alleged romantic relationship: Kangana says they dated, Hrithik says they didn't. Hrithik Roshan also filed a complaint with the cyber cell of the Mumbai Police alleging that an 'imposter' had been corresponding with Kangana on email, pretending to be him. Kangana Ranaut says it was really him all along.
'Done and dusted,' Kangana might have told PTI. But she
did invoke Hrithik in a recent interview
to
Pinkvilla
when told that her
Rangoon
co-star Shahid Kapoor had said she 'makes things up in her mind.' "He must have got that line from Hrithik," Kangana Ranaut is quoted as having said.
Kangana Ranaut's new film
Rangoon
opens this Friday. In it, she plays a 1940s actress named Miss Julia who is caught in a wartime love triangle with a film producer, played by actor Saif Ali Khan, and Shahid's character, a soldier named Nawab Malik.
(With inputs from PTI)