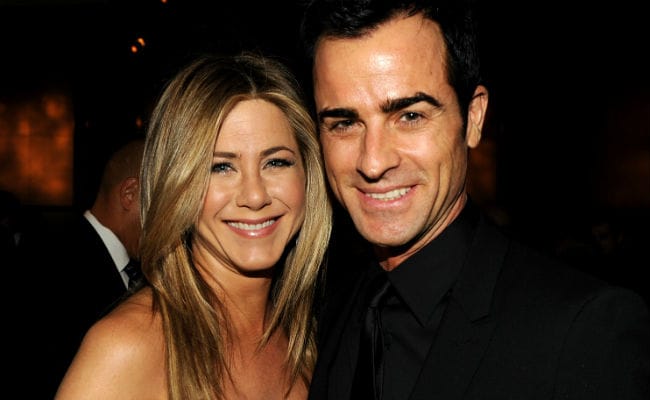 Highlights
"This decision was mutual and lovingly made," they said
The decision was made at the end of last year
Their romance began while filming Wanderlust, which released in 2012
New Delhi:
It's over for Jennifer Aniston and Justin Theroux. The now-ex couple have revealed in a statement that they decided to separate at the end of 2017, after being married two years. The decision to separate was 'mutual and lovingly made' and Ms Aniston and Mr Theroux will remain friends, the statement said. The announcement has been released in response to speculation about the status of their marriage and emphasises that "whatever else is printed about us that is not directly from us is someone else's fictional narrative." Jennifer Aniston, 49, and Justin Theroux, 56, began dating in 2011 and married in August 2015. Read the statement, released by Ms Aniston's publicist Stephen Huvane and carried by AFP and other international agencies.
"In an effort to reduce any further speculation, we have decided to announce our separation. This decision was mutual and lovingly made at the end of last year. We are two best friends who have decided to part ways as a couple, but look forward to continuing our cherished friendship. Whatever else is printed about us that is not directly from us, is someone else's fictional narrative. Above all, we are determined to maintain the deep respect and love that we have for one another."
People reports that Jennifer Aniston and Justin Theroux brought 2018 in together on vacation in Mexico, despite their claim of having taken the decision to split at the end of last year. International sites like
E!Online
note that Ms Aniston attended the Golden Globes last month solo and that Mr Theroux was spotted walking his dog in New York on Valentine's Day, which could mean that Jennifer Aniston is keeping their home in Los Angeles' tony Bel Air area.
Through their seven-year relationship, Jennifer Aniston was closely scrutinized by the tabloid press for signs of pregnancy. In 2016, she wrote a scathing op-ed for
The Huffington Post
titled '
For The Record
,' in which she shot down the rumours and denounced the media for their hounding of her.
The Jennifer Aniston and Justin Theroux romance began while filming
Wanderlust
, which released in 2012. Ms Aniston is the star of cult TV show
F.R.I.E.N.D.S
and of a string of rom-coms such as
The Break-Up, The Bounty Hunter, Horrible Bosses
and
Just Go With It
. As an actor, Justin Theroux is known for films such as
Charlie's Angels 2, Mulholland Drive
and
The Girl On The Train
, and TV series
The Leftovers
. His writing work includes
Tropic Thunder, Iron Man 2
and
Rock Of Ages.
Jennifer Aniston was previously married to actor Brad Pitt
. They divorced in 2005, after being married five years. Brad Pitt later married actress Angelina Jolie, from whom he is now separated.
(With AFP inputs)