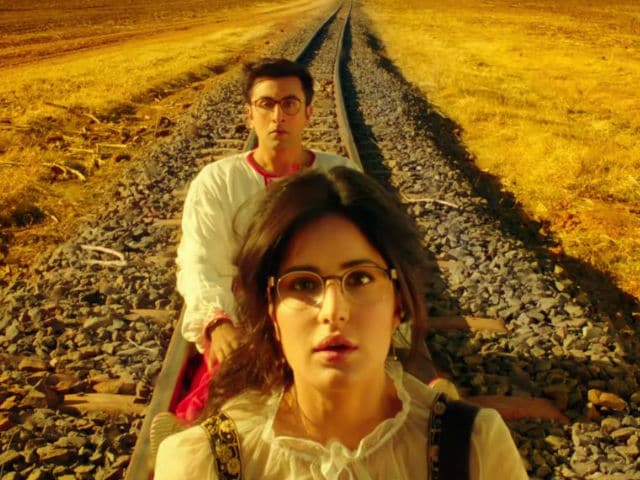 Highlights
Anushka and Shraddha say Jagga Jasoos looks 'awesome'
Ranbir and Katrina's film went on floors in 2014
There was a point when Ranbir wanted to shelve the film
New Delhi:
The first
trailer of the overdue Jagga Jasoos
, starring Ranbir Kapoor and Katrina Kaif, was released on Tuesday and was one of Twitter's top trends. "The magical world of Jagga," wrote Katrina on her Facebook page and several tweets seemed to agree that the trailer did indeed seem magical.
Jagga Jasoos
, a few years in the making, is directed by Anurag Basu, who superintended Ranbir's 2012 hit
Barfi!
As per its trailer,
Jagga Jasoos
is set in the African savannah, across which Ranbir and Katrina's characters are chased amid a bewildering array of wildlife ranging from zebras to ostriches.
Jagga Jasoos
looks awesome, tweeted celebrities like Anushka Sharma, Dia Mirza and Shraddha Kapoor.
WOW!!!! This looks SPECTACULAR !! Cannot wait to see this https://t.co/xjaYdEsUdt

— Anushka Sharma (@AnushkaSharma) December 20, 2016
In absolute wonder and awe!!! #JaggaJasoosTrailer#AnuragBasu#RanbirKapoor#KatrinaKaifhttps://t.co/ZxI4wEnt7M

— Dia Mirza (@deespeak) December 20, 2016
Love it!!!! Check out the #JaggaJasoosTrailer it's awesome!!!!! https://t.co/ri1GMqpdyM

— Shraddha Kapoor (@ShraddhaKapoor) December 20, 2016
Non-celebrity opinion was divided:
#JaggaJasoosTrailer is lit. The film looks like a masterpiece, hard work of 4 years is quite clear in the trailer.

— Shah Rukh Khan Fan (@SRK_IS_KING) December 20, 2016
The trailer is fresh, beautiful and adorable. Ranbir looks so cute and Kat looks lovely. It's going to be a great one. #JaggaJasoosTrailer

— pri (@ViratsFaithful) December 20, 2016
Such a boring trailer !!! Yawnnnnn !
Only last scn was funny !! #JaggaJasoosTrailer

— Tasnim Sadia (@TasnimPorijol13) December 20, 2016
Anurag basu has made it in 4 yrs and today we got to know its a comic for kids with harry potter look #JaggaJasoosTrailer

— saadia (@saadia75) December 20, 2016
Jagga Jasoos
, the first
poster of which was released on Monday
, stars
Ranbir Kapoor as a detective searching for his father
with Katrina helping out. The film releases in April.
"It's adventure, it's mystery, there's a musical, there's romance, there's comedy and it's the kind of films that I will always want to make on screen if I was a director," Ranbir told NDTV in an exclusive interview earlier. "You know, there was a point where I told (Anurag) Basu that should we shelve the film? Is it happening? And he was also in a dilemma, but we kept coming back to it. Because there was the soul of the film, the story he was trying to say...the world, the characters were just not leaving us. But thankfully, we have a sequel in the cards," he said about the delays in the film.
Ranbir Kapoor was last seen in Karan Johar's
Ae Dil Hai Mushkil
, co-starring Anushka Sharma and Aishwarya Rai Bachchan. Katrina Kaif had two films out this year -
Fitoor
and
Baar Baar Dekho
.