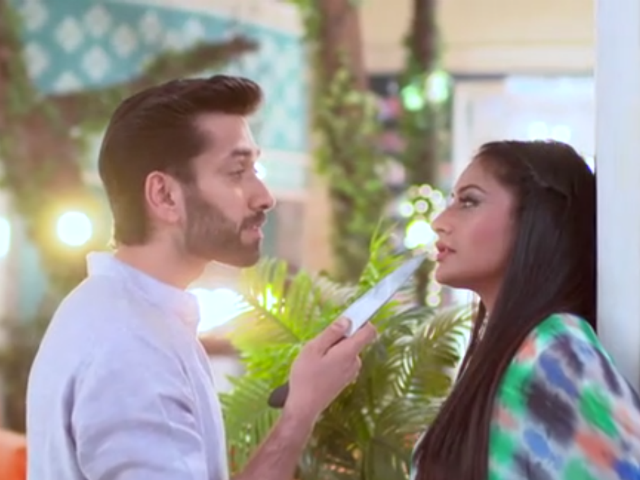 Highlights
Tia apologises to Anika and Shivaay on behalf of her mother
Tia thanks Anika for reuniting her with Dushyant
Shivaay talks to his uncle about Priyanka's wedding
New Delhi:
The Ishqbaaz episode
, which aired on television on Friday, started with Shivaay showing the chip to Mrs.Kapoor. Tia apologises to Anika and Shivaay on behalf of her mother. She thanks Anika for reuniting her with Dushyant. Tia says that the universe wants Shivaay and Anika to be together forever. Dadi is rejoiced as the drama around Anika and Shivaay ends. She tells the family that she had full faith in her grandsons to fix the situation. Shivaay also thanks Anika for supporting him in his plan. While the family rejoiced, there was another plan being made to destroy the Oberios. Shivaay's brothers ask him to dance with his wife, Anika.
The next morning, Shivaay asks Anika why she had not offered him tea and was chewing on an apple all alone. He picks up a knife and tries to scare her. He asks her if she was affected by his closeness with Tia during the drama. She denies, says the only thing that affects her is Shivaay trying to scare her with a knife. She cuts the buttons off his shirt with the knife. As they share a private moment, they are interrupted by Mrs. Jhanvi.
Shivaay talks to his uncle about his cousin, Priyanka's wedding. He says she should get married to ACP Randhvan. However, everyone disagrees with Shivaay and remind him how ACP had tried to frame him Gayathri murder case. Shivaay assures them that ACP is a good man and that Priyanka is also happy with the proposal.
Later, Anika goes to call Priyanka as her in-laws are visiting. She sees Priyanka tensed and tries to find out if she is really happy with the proposal. She says that she is more of her friend than a sister-in-law and that she should feel comfortable sharing her thoughts with her. However, they are summoned downstairs.
Shivaay's mother is worried about the decision he has taken for his sister Priyanka. His father asks her not to worry as Shivaay would only wish the best for her.
The show ends with Priyanka's mother-in-law making an entry in the Oberio mansion.