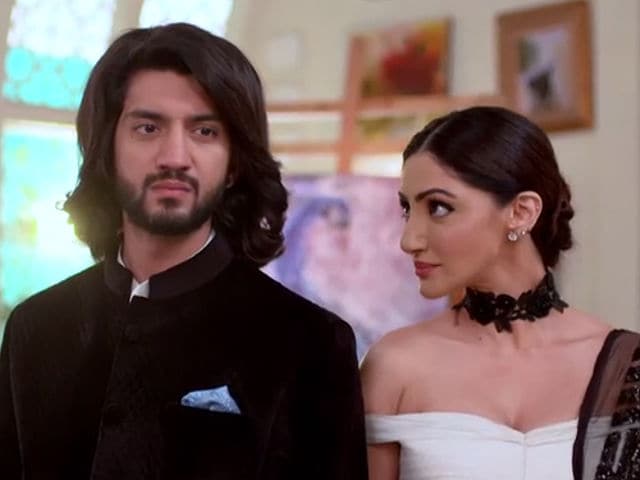 Highlights
Omkara gets engaged to Svetlana to save his parents' marriage
Shivaay understands why Omkara took the drastic step
Tia's mother blackmails Shivaay to open a trust for his unborn child
New Delhi:
Tej announces his engagement to Svetlana. His family is shocked and questions him how can he
leave his wife for another woman
and he replies that their relationship was just for the heck of it and that he should have taken a divorce from Jhanvi long time back. Svetlana enters and Tej asks her to join him. Svetlana extends her hands but walks towards an unseen person standing behind Tej. As it happens, Svetlana walks toward s Omkara (Tej's son) and they exchanged rings in front of the family members. Tej is unable to believe what just happened and Omkara asks him to back off. Tej turns to Svetlana and demands an explanation. Omkara asks him to behave properly reminding him that Svetlana is now his fiancee. Omkara doesn't listen to anyone and walks away.
In another scene, Anika tries to convince Shivaay to speak to Omkara and reconsider his decision. Shivaay doesn't want to speak to Omkara. Anika asks Shivaay not to avoid the situation. Shivaay says that Omkara has taken the step for his mother. He says Jhanvi tried to commit suicide because of Svetlana and now he's just trying to protect his mother's interest. Anika says that Shivaay shouldn't support Omkara because relationships are not meant to be trading tools. Shivaay questions Anika's intentions in marrying him. He tells her that often individuals take decision for the betterment of their family. Anika says she will never understand Shivaay.
Meanwhile, Omkara asks Svetlana to give her price to stay out of his parents' life. She asks for Rs 100 core and Omkara says he will give her the amount. Svetlana says that Rs 100 crore is just a bonus while she's reveling in the fact that everyone is upset because of her. Omkara threatens her to stay out of her mother's life. Svetlana is visibly disturbed by Omkara's aggressive attitude.
Tia calls Svetlana and congratulates her. She adds that she will soon put her next move in action. Tia goes to Shivaay and says that her mother wants Shivaay to open a trust of Rs 100 crore in the name of his unborn child. Tia's mother blackmails Shivaay into signing the papers by saying that if he won't sign the papers then she'll reveal to the family that Omkara is Tej's illegitimate son.