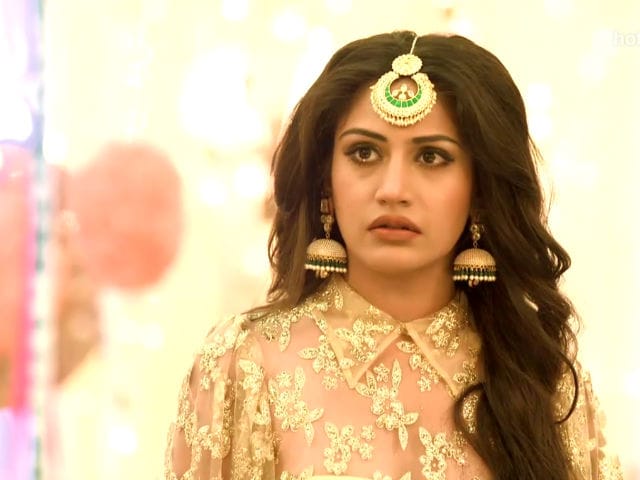 Highlights
Shivaay signed the divorce papers
Romi told Anika that Tia is pregnant with Dushyant's child
Anika asked Shivaay to call-off his marriage
New Delhi:
The
Ishqbaaz
episode on February 28 opened with Tia's mother asking Shivaay to divorce Anika. Shivaay's mother got happy to hear the suggestion and asked Shivaay to sign the papers while
daadi
and Rudra prevented Shivaay from doing so. However, Shivaay signed the divorce papers. Meanwhile, the Oberois' prep for Shivaay and Tia's wedding. Shivaay's mother asked Anika to get the some stuff for the rituals from Romi's room. As Anika entered Romi's room, she learnt for her that Tia is pregnant with Dushyant's child and is married to him. Romi, who still is in the unconscious state, spoke about calling-off Shivaay and Tia's wedding.
Instantly, Anika reached the venue and asked Shivaay to cancel the wedding. She revealed that Romi had told her about Tia's secrets and that she is bluffing the entire family, Tia's mother, Mrs Kapoor got furious and asked everyone to ignore what Anika said. Mrs Kapoor even told Shivaay to act according to her otherwise, she would reveal to Omkara that he is an illegitimate child.
Shivaay acted according to Mrs Kapoor's wish and asked Anika to not spread unnecessary rumours about Tia. He told that he would marry Tia and in turn asked Anika to leave their house right away. As Anika left the house, she was seen in grief, however, a rather happy Anika suddenly called someone and informed about the whole episode.
In a change of scene later, Anika and Shivaay looked happy with course of events and it seemed that the entire scene was planned by them.