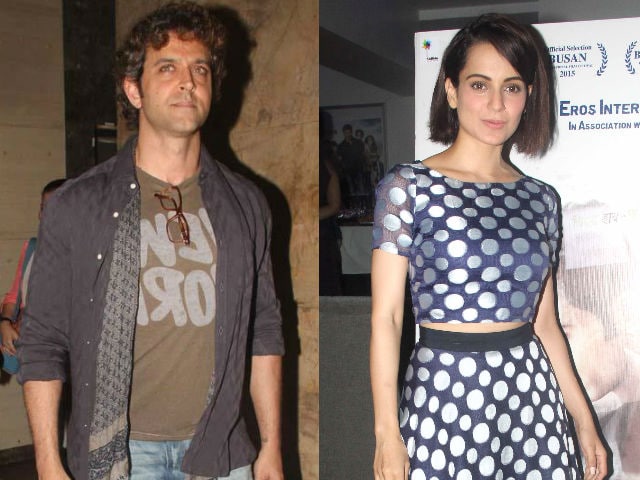 Highlights
Farah Khan was asked to pick one person between Hrithik and Kangana
Farah said she would save Hrithik
Hrithik and Farah go back a long way, she said
Mumbai:
Last week, Kangana Ranaut did a handful of interviews and TV shows to promote her upcoming film
Simran
but the movie was sidelined in all her interviews as she went all guns blazing
at her alleged ex-boyfriend Hrithik Roshan
. While the film industry is closely watching the Hrithik - Kangana fight, not many are coming out and talking about it or taking sides even on social media. But on Monday morning, filmmaker Farah Khan, who appeared on
SheThePeople.tv
's show
Filmistani
, made it clear whose side she is on. At an interactive session with college students held in Mumbai, she was asked a hypothetical question by a journalist, which made her stand pretty clear.
Farah Khan was asked if she could save only one person from a sinking boat out of Hrithik Roshan and Kangana Ranaut, whom would she save? The college students who attended the session were all ears to hear the filmmaker's reply. She first joked and said that she would drown herself in the sea, but when the journalist insisted, Farah said she would save Hrithik because they go back a long way and she has also worked with him. Farah won a hamper for not being politically correct and giving an honest answer to the tricky question. The audience applauded her courage for not passing it off as a joke and standing by what she felt.
In her recent interviews,
Kangana Ranaut has shared a lot of details about Hrithik and their alleged relationship
- which he denies. She said she wants an apology from the superstar because she is hurt that Hrithik allegedly leaked her private emails to the media and event sent her legal notice, in which he asked for a public apology for calling him a 'silly ex.' On a TV show, the actress said that he had been in touch with her while he was going through a divorce from former wife Sussanne Khan in 2014.
Hrithik Roshan has not reacted to any of this but
his ex-wife Sussanne came out in his support
. She shared a picture of her and Hrithik on her Instagram and said, "There is no allegation or a sad evil plot that can have the weight to triumph over a good soul." #mafamilia #powerofthuth #pureheart. This post, seen as endorsing Hrithik's stand, came as a sign of relief for the superstar who has received little public support from the film industry.
Kangana also said that feared for her life because the Roshans are well connected and she added that she did go to the Women's Commission office to file a complaint but didn't get any help from there so she has lost faith in the Women's Commission. So far these are just one-sided allegations, the Women's Commission has not responded to the actor's claims.
Kangana even spoke about Karan Johar on one of the talk shows, but she didn't take any strong stand against the filmmaker, since he has already apologized to the actress for making fun of her on the IIFA stage. She said, "Karan Johar is harmless."
In an interview to NDTV.com
in July this year, Karan apologized on camera, and since then the actress has not spoken out against him. She had appeared on an episode of Koffee With Karan's last season where she slammed the filmmaker and called him the 'flag-bearer of nepotism.'
With more and more details coming out, the Hrithik and Kangana tiff has gotten even uglier, and though many actors and filmmakers in Bollywood are closely watching the actress speak out, no one is ready to comment on it yet. But now we do know where Farah Khan stands in this fight.