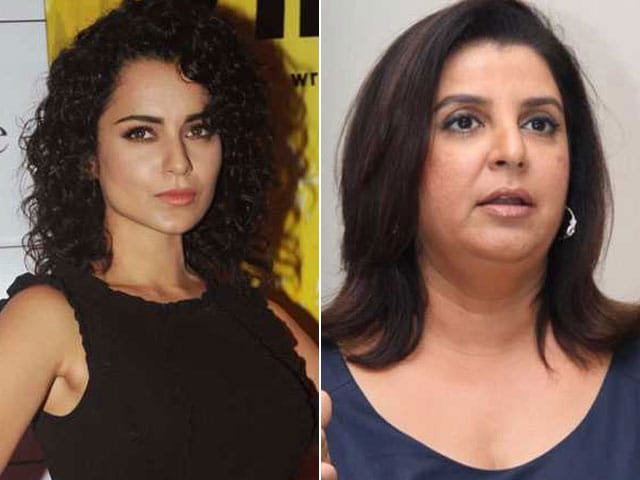 Highlights
Kangana had said she would like an apology from Hrithik
"One should deal with such matters carefully," Farah said
Farah earlier said she would save Hrithik
New Delhi:
Actress
Kangana Ranaut's explosive interviews
to various news channels last week, has started a debate in Bollywood all over again. While promoting her forthcoming film
Simran
, Kangana said she would like an apology from actor Hrithik Roshan, whom she claims to have dated. Choreographer
Farah Khan, who earlier picked old friend Hrithik's side
, now said that for her 'feminism meant equality' and if a man would have made statements like this he would have faced the society's brunt, reports news agency PTI. Without taking names, Farah said, "I don't want to take anyone's name. I don't want to get caught in between. But every time you are playing a woman's card. For me feminism is equality. In such a scenario a man should put himself in a woman's shoes and vice versa and then it becomes easy to understand each other. One should deal with such matters carefully."
In an interview to India TV, Kangana also commented on her alleged relationship with Aditya Pancholi and Adhyayan Suman. Of the whole controversy, Aditya Pancholi reportedly said he would take 'legal action' against the actress while
Adhyayan reacted and said that he's 'caught up with more important things in life
.'
Farah further told PTI, "Just imagine if a man had said something like a woman, what would have happened. If a man had sent a picture or said anything like this, that man's life would have become hell or he might have been taken to the jail. If such things are not acceptable for a man, why it should be for woman?"
The Kangana-Hrithik feud dates back to January 2016, after the actor sent her a legal notice demanding an apology for appearing to refer to him as a 'silly ex' in an interview. Kangana responded with a legal notice. Hrithik further filed a police complaint claiming that an imposter had been corresponding with Kangana pretending to be him. In the interview, Kangana claimed that she still wants Hrithik to find the imposter and bring him in front of her. Kangana claimed Hrithik sent her various e-mails but is now denying. Hrithik has always denied their alleged romance. Kangana Ranaut and Hrithik Roshan co-starred in films
Kites
and
Krrish 3
.
Singer Sona Mohapatra has accused Kangana Ranaut of using the platforms to promote her film while Hrithik's ex-wife Sussanne posted a picture of herself with the actor and wrote, "There is no allegation or a sad evil plot that can have the weight to triumph over a good soul."
(With PTI inputs)