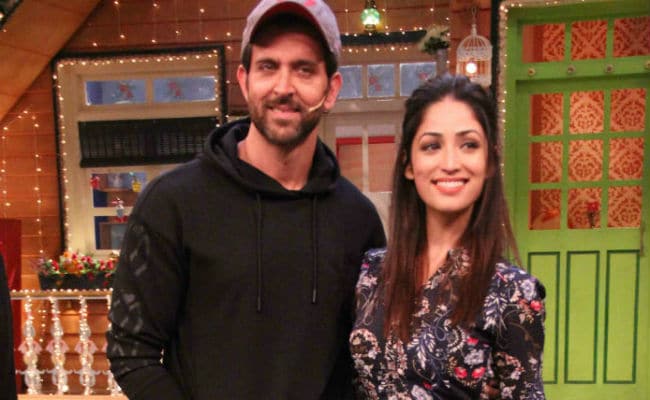 Highlights
"Making everything a gender issue can easily distract us," Yami wrote
Farhan Akhtar also defended Hrithik earlier
Hrithik claims that he has never met Kangana privately
new delhi:
Hrithik Roshan's statement about Kangana Ranaut last week appears to have galvanised several of his colleagues from the industry into actions, albeit virtual. After actor
Farhan Akhtar defended his friend and Zindagi Na Milegi Dobaara co-star via a lengthy Facebook
post, Hrithik's
Kaabil
heroine Yami Gautam also endorsed him. "I am usually not very vocal on social media, but I am making an exception today, since as a woman, what I am seeing right now terrifies me," reads the first few lines of Yami's Facebook post. Following precedent set by Hrithik and Farhan, Yami named no names but it's very clear who she means when she writes about the 'vilification of a man based on make-believe evidence is dangerous' and how 'gender card should not take precedence over facts and objectivity.'
"This is concerning the matter surrounding two of the biggest stars in our industry. I have, fortunately, had the opportunity to work with one of them. However, I am not writing this as a co-star or even as a friend. I am writing this as a woman and a concerned citizen of the country, and I will try to get my point across as succinctly and as objectively as possible," Yami wrote.
Yami warned against reducing the
Kangana Ranaut vs Hrithik Roshan controversy
to a war of the sexes. "Just because this is a fight between a man and a woman does not mean it has to be a fight between genders. Making everything a gender issue can easily distract us from addressing legit sexist issues that plague our society," she concluded.
Read her full post here.
The short version of the controversy is that Kangana Ranaut and Hrithik Roshan have locked horns over a romantic relationship that may or may not have happened. She claims they dated for seven years, he claims they never dated at all. Accusations traded include: that he 'slut-shamed' her and hacked her mail; that she stalked him, photoshopped a viral image and was corresponding with an 'imposter.' Kangana went on TV some weeks ago and demanded an apology from Hrithik and his father Rakesh Roshan; the Roshans filed a police complaint against her attaching emails that she allegedly sent Hrithik and which went viral after being accessed by the media.
Hrithik Roshan released a statement last week alleging her never spent time alone with Kangana Ranaut and that he had been 'harassed for 4 years.' He explained that he was choosing to speak up out of concern for his two sons with ex-wife Sussanne Khan.
Read Hrithik Roshan's statement here:
October 5, 2017
Hrithik's childhood friend Farhan Akhtar wrote this Facebook post soon after:
Sonam Kapoor and Karan Johar tweeted Farhan's post, earning themselves infuriated tweets from
Kangana Ranaut's sister Rangoli Chandel who is fighting a lone social media war in defence
of the actress. Her posts have included a screenshot of a mail allegedly sent to Kangana by Hrithik. She also called him a 'creep' and a 'stalker uncle' in separate posts.
Kangana Ranaut and Hrithik Roshan worked together on the films
Kites
and
Krrish 3
.