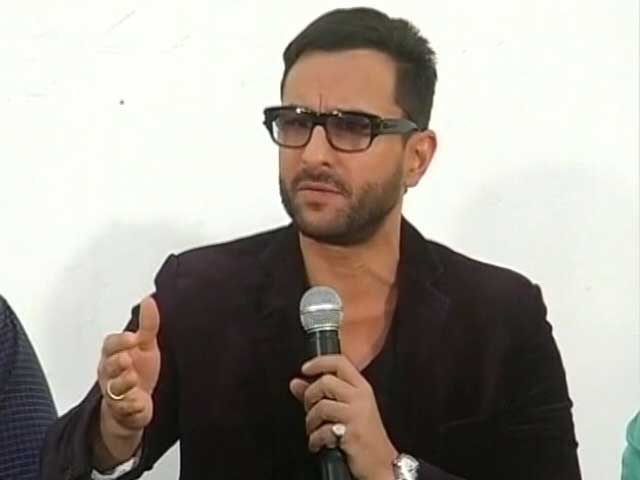 Mumbai:
Kabir Khan's
Bajrangi Bhaijaan
, starring Salman Khan, may be a huge hit in Pakistan, but his next film
Phantom
, has found opposition from alleged 26/11 mastermind Hafiz Saeed himself. The Jamat-ud-Dawah chief, wanted in many countries, recently filed a petition to ban the film before the Lahore High Court in Pakistan - a move that has amused the makers of
Phantom
.
At a press conference in Mumbai, author S Hussain Zaidi, on whose 26/11-themed book
Mumbai Avengers
the film is based, couldn't help voicing the famous dialogue from
Don
. "Don
ka peecha toh
11
mulkon ki
police
kar rahi hai par
Hafiz Saeed
ka peecha toh
50 countries ki police
kar rahi hai
. How can he even think of a petition seeking a ban on
Phantom
?," he said, rehashing the lines from the 1978 film with a few of his own.
Phantom
star Saif Ali Khan, though, was at his sarcastic best. Pointing towards the lack of freedom of expression in India, the actor said, "We are also banning stuff. At the same time, we all know what the reality is. The reality is that there are certain people who are enemies of our state and who are residing in Pakistan. Is this a secret? Is this something we can never say? Terrorists, people from the underworld dead against our country are living in Pakistan. Is it true or not or am I the only person saying that?," Saif asked everyone present.
Apart from the petition filed by Hafiz Saeed, there is absolutely no movement on banning
Phantom
. Then why are the filmmakers engaging with a terrorist? Is it really necessary or an opportunity for promoting the film?
Director Kabir Khan explained.
"Actually we should be ignoring such elements. The point here is that we are not reacting to a censor ban, we haven't even shown them the film. We are here because after what Hafiz Saeed did, we got a lot of calls from the media so we are reacting to that particular issue. We are not reacting to the ban since it hasn't even happened," Mr Khan said.
The ban may not have happened, but if we go by the track record of films like
Baby, Agent Vinod
and
D-Day
, which were banned in Pakistan, it looks like
Phantom
could meet with a similar fate.