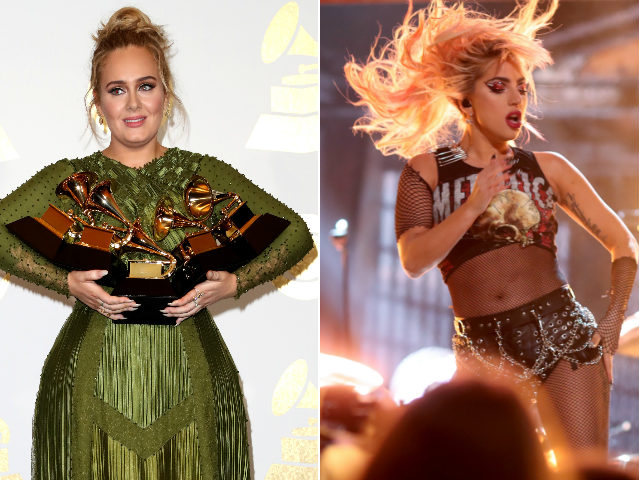 Washington:
At Sunday's 59th annual
Grammy Awards in Los Angeles
, the air felt sticky with deja vu. A boffo-selling soothsayer, Adele, had been pitted against a superstar-turned-agitator, Beyonce, for the night's heaviest prizes: song, record and album of the year.
Sound familiar? Last year's Grammy telecast staged an oddly similar showdown between Taylor Swift's
1989
, a radio-dominating sales juggernaut, and Kendrick Lamar's
To Pimp a Butterfly
, the unofficial score to the Black Lives Matter movement. After decades of sustained tone-deafness to the vitality of rap and R&B, the Recording Academy had an opportunity to get behind a timely and tenacious recording, but it was Swift who went home with the album of the year trophy tucked beneath her arm.
This year, Adele brought her broom.
25
won album of the year, and her heart-squeezing ballad,
Hello
,
ended up besting Beyonce's
commanding
Formation
for song and record of the year. Having swept every category she was nominated in back in 2012, the British balladeer pulled off a repeat on Sunday, also winning best pop solo performance and best pop vocal album earlier in the night.
Chance the Rapper took home another one of the night's big, genre-blind awards near the top of the show, besting bro-pop duo the Chainsmokers, rapper-singer Anderson. Paak, and country phenoms Maren Morris and Kelsea Ballerini for, winning best new artist. (And never mind that his breakout album,
Acid Rap
, landed all the way back in 2013 - he's new enough to the greater Grammy electorate.)
"Independence means freedom," Chance declared in his best new artist acceptance speech, burnishing his image as an independent artist, even though his latest album,
Coloring Book
was initially blasted out into the universe via Apple Music.
And while this exuberant Chicago native makes vivacious and deserving music, his good fortune may have been the result of a savvy charm offensive. After dropping
Coloring Book
as a streaming-only release, Chance enthusiastically lobbied the Recording Academy to consider streaming exclusives to be eligible for Grammy nomination. It worked out better than he could have expected. Later in the show,
Coloring Book
won best rap album, and to top things off, Chance delivered an exultant, gospel-soaked performance of
How Great
and
All We Got
.
But even if the academy is finally showing a little flexibility in how it allocates prestige across genres and formats, the telecast's producers seemed determined to restage the same show we've seen in recent years, packing it with ill-fitting collaborations that the show's producers have proudly branded as "Grammy moments."
Fresh off her solo performance at last weekend's Super Bowl halftime show, Lady Gaga joined Metallica for a performance riddled with technical difficulties. Ballerini and Danish pop group Lukas Graham were forced to smoosh their respective hits -
Peter Pan
and
7 Years
- into one nonsensical ballad. And when hitmaker Demi Lovato, country group Little Big Town, R&B singer Andra Day and pop striver Tori Kelly teamed up for a 40th anniversary tribute to the
Saturday Night Fever
soundtrack, the only thing the four acts appeared to have in common was their availability.
There were some gorgeous ballads (Alicia Keys and Maren Morris teamed up for the latter's
Once
) and some rough ones (Adele began singing
Fastlove
in tribute to George Michael
, landed in the wrong key, had to start over, and ended the song in disappointed tears). Later in the show, various artists teamed up for an energetic tribute to the late Prince, featuring his proteges, the Time, and Bruno Mars, ghoulishly dressed up like his royal Purpleness.
Other big names materialized throughout the night with midtempo songs. The Weeknd, Katy Perry and rap legends A Tribe Called Quest weren't up for any of the night's awards, but their latest recordings will be eligible next year. Why not follow Chance's lead and get a jumpstart on romancing the electorate?
These more up-tempo tracks - especially Tribe's high-spirited medley, during which longtime collaborator Busta Rhymes shouted
a few harsh words at President Trump
- made for a much-needed breath of fresh air. Last year's ballad-heavy Grammys scored a viewership of roughly 25 million, the show's lowest pull since 2009. So the faster tempos felt purposeful.
Another tactic for keeping viewers plopped on their couches: replacing five-time host LL Cool J with the host of CBS's
Late Late Show
, James Corden, best known for singing his lungs sore during his rampantly viral
Carpool Karaoke
sketches.
Mercifully, Corden only hosted one big singalong during the show - a rendition of Neil Diamond's
Sweet Caroline
with Tim McGraw, Faith Hill, Jennifer Lopez and others - and kept the proceedings moving along with a few good interstitial yuks.
The vast majority of the year's awards were given out in a pre-telecast ceremony that aired online Sunday afternoon. Country music outsider Sturgill Simpson patted himself on the back while accepting the award for best country album with a little self-deprecation: "I guess the revolution will not be televised."
Frank Ocean wouldn't be televised, either. Last year, the hermitic R&B star sent a new album,
Blonde
, to the tippy-top of the charts, but chose not to submit it for Grammy consideration.
"That institution certainly has nostalgic importance," Ocean said of the Grammys in a conversation with the New York Times. "It just doesn't seem to be representing very well for people who come from where I come from, and hold down what I hold down."
On the day
of the Grammys
, Ocean took to Tumblr to post a more profane, pointed screed at the telecast's producers about his refusal to participate. "If you're up for a discussion about the cultural bias and general nerve damage the show you produce suffers from then I'm all for it," Ocean wrote. "Have a good night."
Ocean's boycott feels like the most pointed rebuke to the Recording Academy in years - and it seems to have triggered a strength-in-numbers ripple effect before he even started typing on Tumblr. Among the other nominees who sat this year's ceremony out: Kanye West, Drake and Bieber.
For some of the brightest stars in pop music's firmament, the revolution starts at home.
(c) 2017, The Washington Post
(Except for the headline, this story has not been edited by NDTV staff and is published from a syndicated feed.)