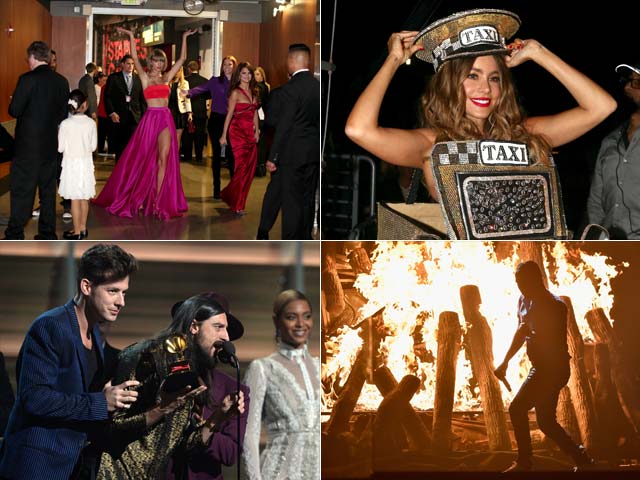 New Delhi:
Rihanna skipped the Grammys (again) but music's biggest night was packed with blockbuster moments nevertheless. From Taylor Swift being Taylor Swift to traffic-stopping Lady Gaga, here are 10 standouts from the show.
Lady Gaga's Bowie Tribute Really Made the Grade
Ground Control to Grammys, just get Gaga on stage every year and all will be right with the world. The singer performed a stunning medley of David Bowie's greatest hits - all the way from Space Oddity to
Heroes
- and, providing the evening's most jawdropping image, began her set with light effects that created the famous Ziggy Stardust lightning bolt on her face.
.@ladygaga celebrated the enduring legacy of one of her
heroes, David Bowie #GRAMMYspic.twitter.com/mLrL0MjetS

- The GRAMMYs (@TheGRAMMYs) February 16, 2016
Taylor Swift Won Album of the Year But Couldn't Believe it
No words. Just classic Taylor Swift.
That moment she couldn't believe she won ALBUM OF THE YEAR at the #GRAMMYs tonight. @taylorswift13pic.twitter.com/TV0cBJ4uIP

- Taylor Swift Updates (@SimplySFans) February 16, 2016
Sofia Vergara, Grammy's Best Kept Secret
Underneath the clothes, it was an endless story. The human taxi dancing on stage as Pitbull performed
El Taxi
turned out to be
Modern Family
star Sofia Vergara. Who knew?!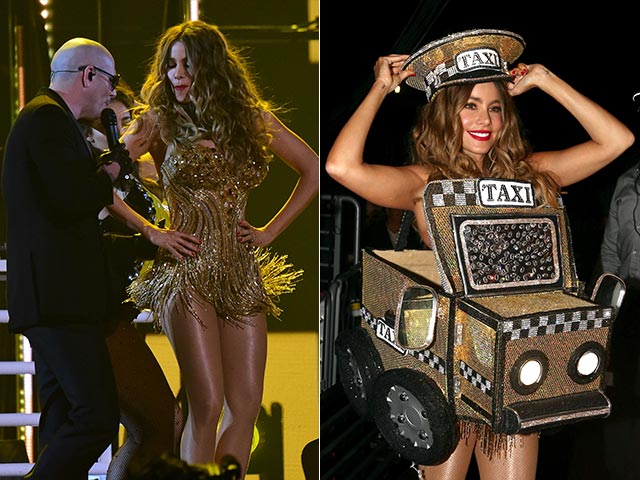 Queen Bey Rules
After an agonizing day of will she, won't she, Beyonce did. She skipped the red carpet but hit the stage in a dreamy white gown to present the final award of the evening, Record of the Year, which went to the Mark Ronson and Bruno Mars collaboration Uptown Funk. Bey, who recently delivered a politically-charged performance at the Super Bowl, said these inspiring words at the Grammys: "Art is the unapologetic celebration of culture through self expression. It can impact people in a variety of ways for different reasons at different times. Some will react, some will respond and some will be moved."
#GRAMMYs@giphypic.twitter.com/Z84caaTD4B

- The GRAMMYs (@TheGRAMMYs) February 16, 2016
Hello, Lionel Richie. Oh, Hello Adele. Didn't See You There
A meme came to life when host LL Cool J began the show with, "Adele, Lionel Richie, say Hello." Adele's record-breaking single of the name has been accused of ripping off Lionel Richie's 1983 hit.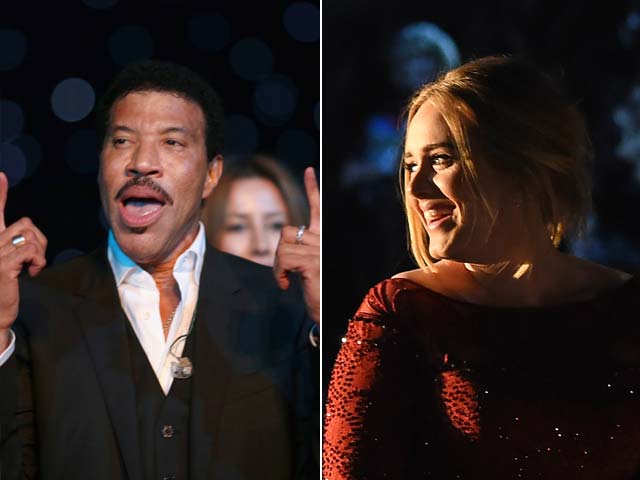 Kendrick Lamar, Man on Fire
Just after winning his fifth Grammy of the evening, rapper Kendrick Lamar delivered a stomping performance of
Alright
and
The Blacker The Berry
. Drama on stage began with an African-American chain gang led by Kendrick and ended with lyrics about the death of Trayvon Martin, the Black teenager shot in 2012.
Love Will Keep Us Alive
Jackson Browne led a stirring rendition of
Take It Easy
as tribute to Eagles founder Glenn Frey, who died last month at 67. He was joined by what is left of the band - co-founders Don Henley and Bernie Leadon, and current members Tim Schmit and Joe Walsh.
Take It Easy
, the band's first hit, was co-written by Jackson Browne and GlennFrey.
Yeezus, Can You Handle This?
The
Bad Blood
between Taylor Swift and Kanye West spilled onto stage when Taylor went up to receive her Grammy for Album of the Year. In what is being seen as a dig at Kanye, Taylor said: "And as the first woman to win Album of the Year at the Grammys twice, I want to say to the young woman out there, there are going to be people along the way who try to undercut your success or take credit for your accomplishments or your fame. But if you just focus on the work and you don't let those people sidetrack you, someday when you get where you're going, you will look around and you will know it was you and the people who love you who put you there, and that will be the greatest feeling in the world."
Most powerful speech given by @taylorswift13 tonight that must be heard by the world: #GRAMMYs (Part 2) pic.twitter.com/6oPYAO5UI0

- Taylor Swift Updates (@SimplySFans) February 16, 2016
The Ace of Spades
Johnny Depp went on stage with a guitar but nobody got all that excited because Alice Cooper and Aerosmith's Joe Perry were next to him. Hollywood Vampires, the supergroup formed by the three, performed a set in honour of Motorhead's late frontman, Lemmy Kilmister.
Hollywood Vampires no palco do GRAMMYs! pic.twitter.com/q75H7eVNh8

- Amber Heard Brasil (@AmberHeardBRA) February 16, 2016
All Night Long, and Forever
Lionel Richie, MusiCares Person of the Year, was the subject of a tribute by John Legend, Demi Lovato, Luke Bryan, Meghan Trainor and Tyrese Gibson. The best part? When Mr Richie himself took the stage to sing
All Night Long
.