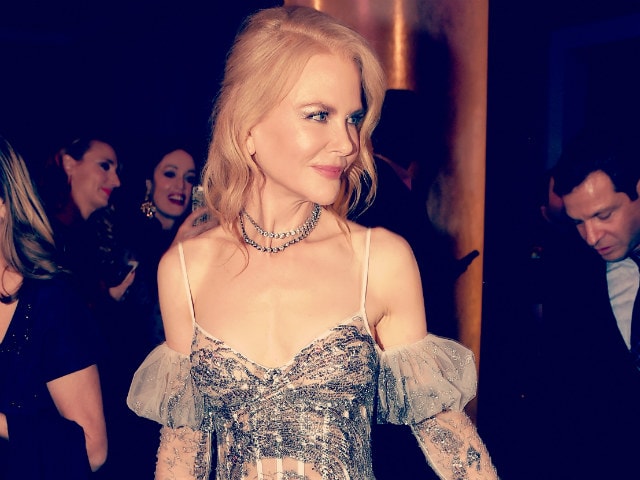 Washington:
The actress Ruth Negga may have done the nearly impossible
on a red carpet
: She wore a dress that was striking and intriguing. It demanded attention without serving up cleavage, without having a slit that rose to the nether regions. It flattered her figure; it captured the imagination. The dress was different but not odd.
And it made you want to know more about the woman who chose to wear it.
The dress was covered in silver metallic sequins, with the bustline delineated in black. It wasn't the least bit revealing, with its jewel neckline and short sleeves. The sleek gown looked as though it zipped up the front, making it seem effortless, despite its high-wattage, otherworldly glamour. When asked about the dress on the red carpet, not only did Negga note that it was from Louis Vuitton, but she even managed to name its designer, Nicolas Ghesquiere, a nod of appreciation for creating it just for her. The red carpet is filled with product placement, but Negga managed to make her mini-commercial not so terribly awkward.
At the
74th annual Golden Globe Awards
on Sunday night,
the red carpet was filled with sequins
and glitter, column gowns and princess ones. There was old-fashioned Hollywood glamour, torso-engulfing ruffles, giant derriere bows and Tom Ford's impeccably tailored tuxedos. As always, some of the celebrities were not served well by their fashion choices. Nicole Kidman comes to mind. She wore an ivory and silver Alexander McQueen "shipwreck" gown that had a romantic, melancholy beauty when it was shown on the runway in Paris, but on the red carpet - which is probably the closest it will ever get to a real-world appearance - it looked like an uneasy melding of Edith Wharton and
Westworld
.
But most celebrities simply looked expertly polished and accessorized. The canary yellow paillettes on a Michael Kors one-shoulder gown were a stunning contrast against Viola Davis's deep-brown skin. Mandy Moore looked elegant in a Naeem Khan gown with its deep-V neckline and a matching cape. Tracee Ellis Ross was aglow in a crystal-encrusted strapless sheath from Zuhair Murad, her fingers covered in sparkling rings. Natalie Portman, who starred in
Jackie
, recalled the 1960s in her butterscotch-colored Prada dress with its crystal embroidery.
The bigger challenge is for an actor or actress to walk the red carpet wearing something that makes them seem interesting - that alerts the audience in only a few seconds that there is a multidimensional person who lives behind this season's character. That maybe you'd want to have dinner with them because there'd be something to talk about besides Hollywood. Just maybe.
How do you achieve that while remaining within the parameters of fashion, good taste, familiarity and clothing - not costume. How do you do it without becoming Bjork with a swan draped around your neck? Pharrell Williams gave it a good-faith effort in an ivory Chanel jacket with a metallic chain draped across his torso. Chanel does not have a menswear line - not officially. But Pharrell is Pharrell. He wore the tailored jacket with a knit ski cap and even made a stab at recalling the precise collection from which the jacket had been pulled. Was it 2012? Still, it seemed more costume than clothing.
The trick is not just in thinking creatively
, but also in speaking up about the role of fashion in the culture.
This was a year in which actresses seemed less tense and uncomfortable discussing their attire - less grudging about the whole who-made-your-dress conversation. Actress Evan Rachel Wood, for instance, chose a custom tuxedo with a white waistcoat and matching silk blouse by designer Joseph Altuzarra, and she was enthusiastic in explaining her selection when asked about it. She was not anti-dress, she said. She simply wanted to let young women know, by her example, that a dress is not required for such occasions. There's another way to be stunning and unforgettable. Women have options, Wood said. Infer what you will.
Janelle Monae wore an Armani Prive black sequin bodysuit with a white taffeta skirt draped in a veil of polka-dot paillettes. In a conversation on E!, Monae explained that she'd envisioned the dress with the help of her stylist, and then "the Armani family pulled our idea together." For Monae, working with the designer was no different from collaborating with another musician or actor. "I just love and respect artists," she said.
There was a moment during the
Golden Globe arrivals
when Ryan Seacrest, king of celebrity small talk, dismissed red-carpet fashion as "over" - a declaration with which the fashion industry would surely quibble. Admiring pretty clothes is an enduring pastime. But instead of demanding that folks ask actresses about more than just their clothes, the key may be in asking them more about their clothes.
Every actress knows that costumes help them craft a character.
On the red carpet
, Portman described how, as she was researching Jackie Kennedy, she was surprised not simply by how smart the former first lady was, but also by how skillfully she shaped and managed the image of her husband and family. For Kennedy, fashion was all part of the narrative - in fiction, and in real life. And for actresses, it can be the story of the red carpet.
(c) 2017, The Washington Post
(Except for the headline, this story has not been edited by NDTV staff and is published from a syndicated feed.)