New Delhi:
Highlights
'What a night it's been at the Emmys,' said Priyanka Chopra
66 per cent of the Twitter users liked Priyanka's 2017 look
34 per cent liked her Jason Wu ensemble
Priyanka Chopra walked the Emmys red carpet in a stunning embellished Balmain white gown and stole everyone's heart. Last year she had a similar effect on the Internet when she twirled (more than walked) on the red carpet, dressed in a cheery Jason Wu chiffon dress. This year, Priyanka chose a dramatic makeover by pairing her white feathered gown with gothic eye make-up and Twitter seemed to have loved the change in Priyanka over the year. We conducted a poll, asking Twitter users which of the two looks sported by Priyanka Chopra they liked better - the dramatic Balmain in 2017 or the jovial Jason Wu in 2016.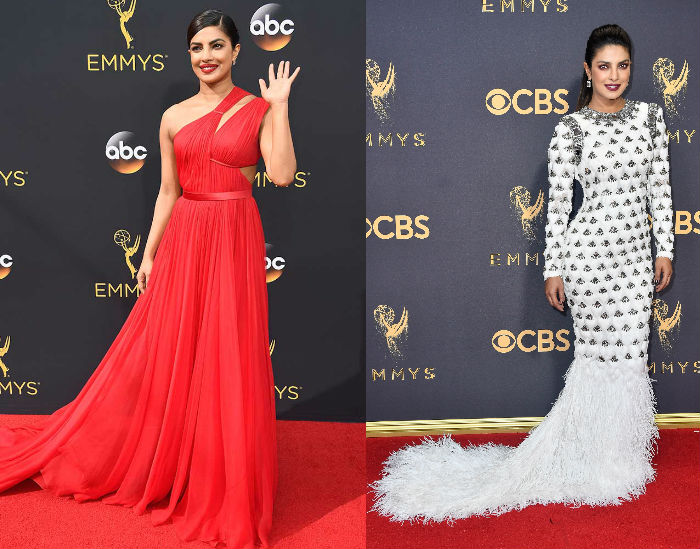 Here's the Twitter verdict:
At #Emmys, @PriyankaChopra opted for a dramatic look in a white Balmain dress in contrast to last year's cheery red Jason Wu. Your pick?

— NDTV Movies (@moviesndtv) September 18, 2017
One user wrote in the comments section that they like liked neither while another wrote they like both - so that's well balanced.
By the time Priyanka Chopra's Indian fans woke up (the Emmys was hosted on Sunday night in Los Angeles),
compliments and memes
(for the actress' 2017 Emmys look) in equal measure had flooded Twitter. Here's a sample:
No one looks better than Priyanka Chopra on this red carpet #Emmys

— Jamie Beth (@jamiebeth_words) September 17, 2017
When Priyanka Chopra comes, you just better be ready! #Emmyspic.twitter.com/tWozGT7gJR

— TheMixxTV (@The_MIXXTV) September 17, 2017
my eyes dropped when Priyanka Chopra came on the stage & damn! she looked gorgeous, well done @Balmain#PCatEmmys#Emmys

— Name (@TheUnfitted) September 18, 2017
Priyanka Chopra's dress is trippy, looks like she is wearing a falcon pic.twitter.com/vUiOfQbZoT

— CJ Fogler (@cjzero) September 18, 2017
I can't decide if Priyanka Chopra's dress is amazing or terrible. #Emmys

— Emily Warren (@emilyk8) September 18, 2017
Twitter also did not miss the gaffe at Emmys when an announcer
called some Priyanka 'Chopa'
onstage to present the Outstanding Variety Talk Series Emmy with Anthony Anderson. The actress did not mind so much but Twitter was outraged on her behalf.
Priyanka Chopra, star of ABC's
Quantico
,
was overwhelmed after she attended the Emmys
and summed up her experience on Instagram as: "What a night it's been at the Emmys. Congratulations to all the winners, thank you for revolutionizing the world of television. So proud of the incredible artists that came together to make tonight epic."
Priyanka Chopra was last seen in
Baywatch
and her upcoming films are
A Kid Like Jake
and
Isn't It Romantic
.
For the latest News & Live Updates on Election Results from each assembly constituency in Madhya Pradesh, Rajasthan, Mizoram, Chhattisgarh, Telangana, like us on Facebook or follow us on Twitter for updates.