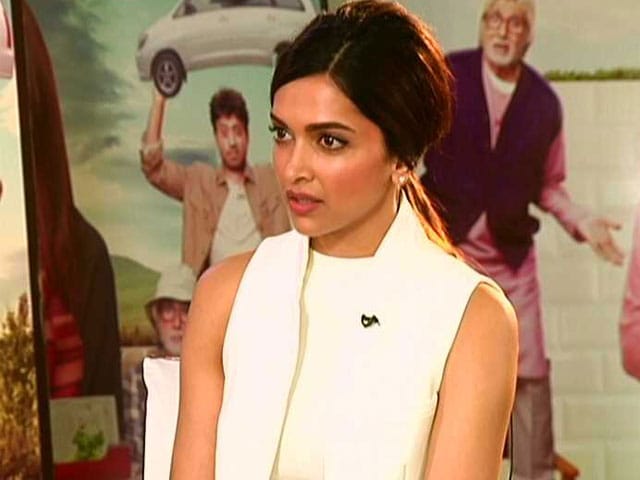 Piku, aka Deepika Padukone, made a trip to the capital along with Irrfan Khan and filmmaker Shoojit Sircar. The actress, who was looking far leaner than she ever has, blamed it on all the dancing that she was being made to do for new film
Bajirao Mastani
.
With
Piku
's promos receiving rave reviews from fans, the actress said it was the movie's simplicity that struck a chord with her. "All it took was just one scene at the narration for me to say yes," she revealed.
The actress, who remains in the top spot in Bollywood, has been at the receiving end over the Vogue video on women's empowerment titled 'My Choice,' which featured her along with 99 other young women. Directed by Homi Adjania, it seemed Deepika had become the target of all that was wrong with the three-minute capsule. So, was she surprised at the backlash and what did she think of it?
"I was a bit disappointed with the reaction, but I'm someone who will always look at the positive side and tell myself there is a large part of people who understood what I was trying to do. There were certain issues I had with the script itself from the couple of lines that were given to me but I dove into it keeping the larger initiative in mind. I personally do not endorse infidelity of any kind. For me trust marriage and honesty is a very sacred thing.
When we talk about empowerment, in my mind it's always equality. I do not feel one is more superior than the other. It's disheartening when we miss the larger issue since I know the intention behind the video." said the actress.
Irrfan Khan, Deepika's co-star in
Piku
, too came to Deepika's rescue saying that the video was made with good intentions. "Now it's how the media and some perceived it. It's their choice, one cannot blame one person for it," he said.
With the heroines in Bollywood diversifying, does Deepika have a plan B, like producing a film?
Deepika said, "I would like to be a line producer rather than a producer. I don't have business sense, I will look after the crew, shooting schedule etc, that's something I would really like to do. I would love to be a secretary."
Piku
, which stars Deepika as Amitabh Bachchan's daughter, hits theatres this Friday.
Watch