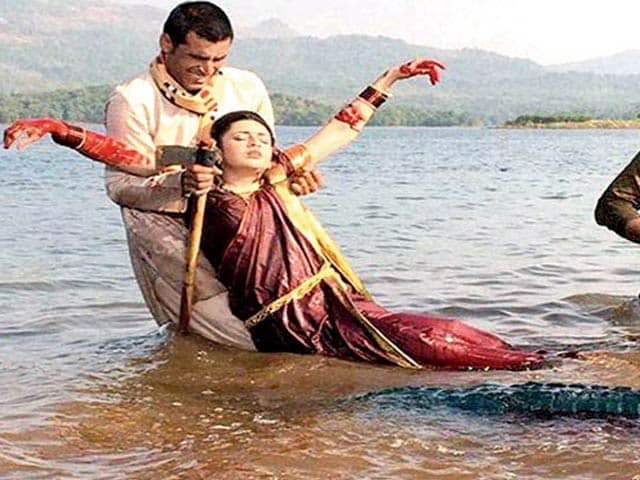 Mumbai:
Whoever coined the term idiot box decades ago must have been far-sighted, because the Indian television industry seems to be doing justice to the term. When it comes to bizarre plots, nothing beats the daily soaps - from
ichha-dhaari naagin
s (shape-shifting serpents) to crocodile attacks to tiger incarnations, they have done it all. Logic and practicality seem alien to the show writers, but weird concepts and ridiculous twists and turns keep the audience hooked, going by the TRP reports.
Believe it or not,
Naagin
is currently the highest rated show on Indian television. The supernatural revenge drama stars Mouni Roy, Arjun Bijlani, Sudha Chandran and Adaa Khan. To be fair, it was meant to be that way - an
ichha-dhari naagin
out to seek vengeance. But what really amuses us is when a normally-running soap accommodates hilarious and indigestible content for the sake of a 'twist' (can you hear '
Aagey jaanne ke liye dekhiye
...' playing in your head?). A case in point is Karan Kundra's recent show
Yeh Kahan Aa Gaye Hum
. After nearly three months of playing a normal human being, he will be shown metamorphosing from a rockstar to a tiger by night! The transformation takes place because of a curse on his father which affects the next generation. So, as Karan begins to roar and gets his claws and jaws out, his wife will be left to sort out his mess (read: carcass).
Yeh Hai Mohabbatein
recently showcased Ishita (Divyanka Tripathi) getting possessed by a spirit. She would lose track of who she was, behave like another character and then hang people upside down. The recent sequence that had us in splits involved Ishita in a combat with a crocodile. The man-eater pulls Ishita into an ankle-deep lake and chews on her leg (like a dog's bone). However, when they pull her out of the water, we see blood oozing out of Ishita's - no, not legs - hands! And no one knows how that happened. Raj Singh Arora, who plays Mihir in the show, said, "I hate
golgappa
and have never eaten one in my life. But invariably, every two months I have to shoot for this sequence where I am having
golgappa
with my reel love interest and I find it totally bizarre because the couple can go to a restaurant and eat."
In most cases, the lead actor is always shown as the knight in shining armour for his lady love.
Meri Aashiqui Tum Se Hi
's Ranveer (played by Shakti Arora) experienced this first-hand when he rescued Ishani (Radhika Madan) from a jaws of a tiger. He pounces on the animal to save her and emerges unscathed - if they only knew what fighting a tiger really entails. "So, this guy was wearing a tiger's mask with his body covered in make-up. It was funny to shoot the scene. Doing it in films is alright, but in television, it is funny. Initially, we had Ishani running behind a goat, then there was a sequence where I had to save Naina from a dog and now, fighting a tiger. I feel like I belong to some animal welfare society. But frankly, it's a welcome break from dramatic scenes. We have a great time on the sets with all this," said Shakti.
Talk about bizarre plots and
Sasural Simar Ka
deserves a special mention. While there are too many weird elements in the show to count, this one made us shake our heads in disbelief. After shape shifting snakes, they introduced
daayan
s and had a female spirit possessing Simar to take care of her child and husband. At least the women get to do something in the show while the men only enter the scene when they have to rescue their wives.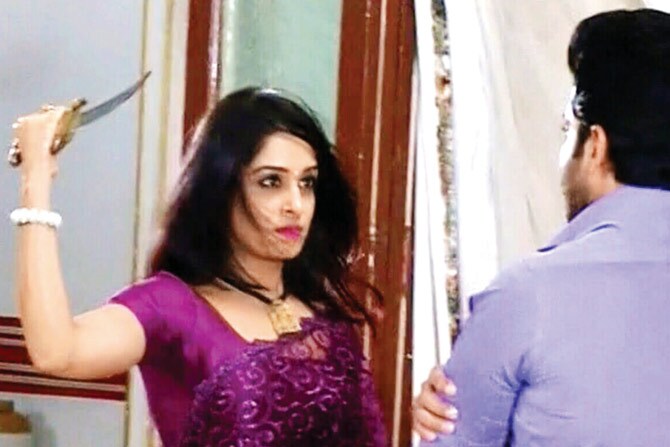 Chetan Hansraj recalls a similarly ridiculous scene from the time he was shooting for
Ssshhhh Koi Hai
. "I was playing a Dracula and there was a scene where I was shown sitting and sipping tea."
When it comes to fantasy,
Qubool Hai
is another show that will make you cringe at the extreme that writers go to in a bid to make a show work. It started off as a normal love story and took two generation leaps, but then black magic, daayans and werewolves were thrown into the 'creative' pot. Rithvik Dhanjani says, "I have done a lot of bizarre sequences, but I remember this one in
Pyaar Kii Ye Ek Kahaani
, where I played a werewolf. Normally, to kill a vampire you use metal or silver knives, but we changed it and showed werewolves can only be killed if they are stabbed in the heart with a wooden knife. Strangely enough, my mother on the show gets killed like that. So, as a counter measure, they introduced a way to bring her back to life. Pour someone's blood on the wooden knife and that way she can be resuscitated. If that wasn't bizarre enough, we had shot for this war sequence. I think at that time we had some budget issues as well. So, for people turning into vampires, they would show the fangs, but when you show the werewolf, you have to show the full body right? But we showed only their claws. This entire fight was to attain a blue liquid that grants eternal life. Instead of drinking it, we have to rub it on our palms. In spite of doing that, I die in the end after a week or more episodes later. I think they forgot that I was already granted eternal life."