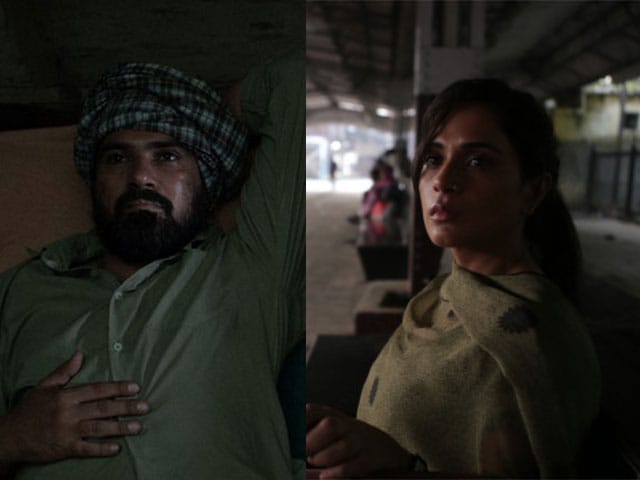 The Un Certain Regard section of this year's Cannes Film Festival will include two films from India - the Punjabi language Chauthi Koot and Maasan, directed by first-timer Neeraj Ghaywan and starring Richa Chadda and Sanjay Mishra.

The line-up of films was announced today by festival director Thierry Fremaux who also said that the eye on India would focus on 'new gen' films rather than offerings from Bollywood or Bengali cinema.

A tweet on the @Festival_Cannes Twitter handle read:
Cannes2015 CHAUTHI KOOT (THE FOURTH DIRECTION) by Gurvinder SINGH UnCertainRegard

Festival de Cannes (@Festival_Cannes) April 16, 2015
#Cannes2015 MASAAN (FLY AWAY SOLO) by Neeraj GHAYWAN UnCertainRegard

Festival de Cannes (@Festival_Cannes) April 16, 2015

A thrilled Neeraj Ghaywan promptly retweeted the post:
PHHEEEWWWW!!!!!!!! https://t.co/gPr1J7oQvk

Neeraj Ghaywan (@ghaywan) April 16, 2015
Happiest tweet I will ever put up. Our first film, MASAAN is selected at UN CERTAIN REGARD section of CANNES 2015. https://t.co/u0b2GyXRbb

— Neeraj Ghaywan (@ghaywan) April 16, 2015

Richa Chadda, whose second film it is at Cannes after Gangs Of Wasseypur, tweeted:
And it's out! Our film Masaan makes it to Cannes2015 in UnCertainRegard ! Congratulations to @ghaywan. I love you! Mucho gracias for this

— RichaChadha (@RichaChadha_) April 16, 2015
Congratulations to @anuragkashyap72@guneetm@FuhSePhantom@sikhyaent ! OVER THE MOON! Love love love!

— RichaChadha (@RichaChadha_) April 16, 2015
Sunil Doshi, who has co-produced the film with Catherine Dussard and Kartikeya Narayan Singh, said in a statement, "For me this film is a tribute to Mani Kaul," referring to the critically acclaimed filmmaker who died in 2011. Congratulating the team, actor-director Rajat Kapoor wrote:
Neeraj Ghaywan's Masaan in un certain regard; at Cannes this year!!!!;wah wah- mubarak all the friends who were a part of that film :))

Rajat Kapoor (@mrrajatkapoor) April 16, 2015

National Award-winning director Gurvinder Singh's Chauthi Koot is based on writer Waryam Singh Sandhu's collection of short stories of the same name and is set in militancy-era Punjab. Shot in Amritsar and Ferozepur, the film does not feature any professional actors. Suvinder Pal Vicky, Rajbir Kaur, Kanwaljeet Singh and Gurpreet Bhang have played important parts. Gurvinder Singh previously directed the acclaimed Anhey Ghorey Da Daan.

The Indian tadka at Cannes will also include Miya Kal Aana by actor Nawazuddin Siddiqui's brother Shamasi, which will be screened as part of the 'Short Film Catalog'.


Asif Kapadia's documentary on Amy Winehouse will get a midnight screening. French director Jacques Audiard's
Dheepan
, which tells the story of Tamil refugees in Paris, is competing for the prestigious Palme d'Or.
Cannes regulars Aishwarya Rai Bachchan and Sonam Kapoor will likely be at the festival again this year, representing cosmetics brand L'Oreal. Unconfirmed reports suggest that Bollywood couple Ranbir Kapoor and Katrina Kaif may also make their red carpet debut at the French Riviera as part of the entourage for director Anurag Kashyap's Bombay Velvet which, like previous Anurag films, could be screened at the festival.
The Cannes festival will be held from May 13 to 24 this year.