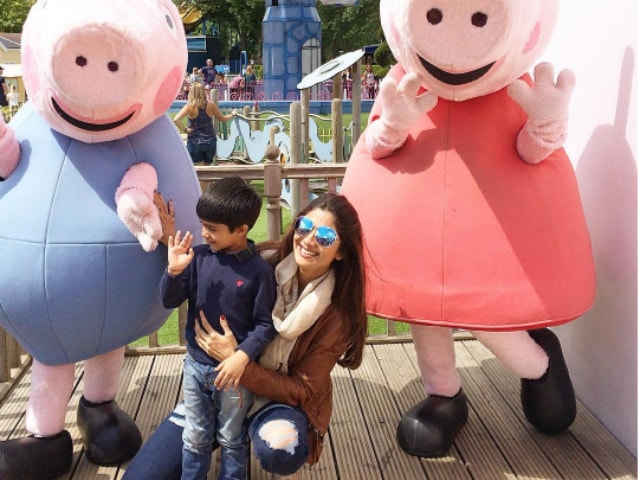 Highlights
Shilpa's Instagram post perfectly describes the day in the life of a mom
Twinkle Khanna had her own Mom Olympics moment with a 'toddler dead lift'
Anil Kapoor's iconic character Lakhan made it to the Olympics too
New Delhi:
With all due respect, could Rio's superwomen Katie Ledecky, Simone Biles and Katinka Hosszu win the Mom Olympics? Many
aam
mothers do every single day. Shilpa Shetty's post on Instagram perfectly describes the day in the life of a mom - be it 'toddler dead lifts' or 'sunscreen wrestling', moms do it all.
For Shilpa, who has a
4-year-old son named Viaan,
and fellow mom-athletes, the Mom Olympics are a daily event, unlike the once-in-four-years Games.
Shilpa's post reminded us that we've seen celeb mom-athlete Twinkle Khanna struggling to ace her event, the toddler lift.
I try to lift the baby and walk up the stairs, struggle, and finally give up. Apparently we are both not as young as we were

— Twinkle Khanna (@mrsfunnybones) July 12, 2016
Shilpa and Viaan have also been training in track.
We're sure your toddler makes you run marathons, Shilpa - how else are you one of the fittest moms in Bollywood?
Mom Olympics aside, a former dad-athlete also posted about the Rio Games on Wednesday. Actor Anil Kapoor's iconic character Lakhan also made it to the Olympics, in his own way:
Very cool T-Shirt of @AnilKapoor's ICONIC&BELOVED character LAKHAN!!! The power of LAKHAN will help #RioOlympics2016pic.twitter.com/UlOJEtF8s7

— Dilip Kumar Fan Club (@Amirmurt) August 10, 2016
Dhina dhin dha
. Sports and celebs, they go hand-in-hand.