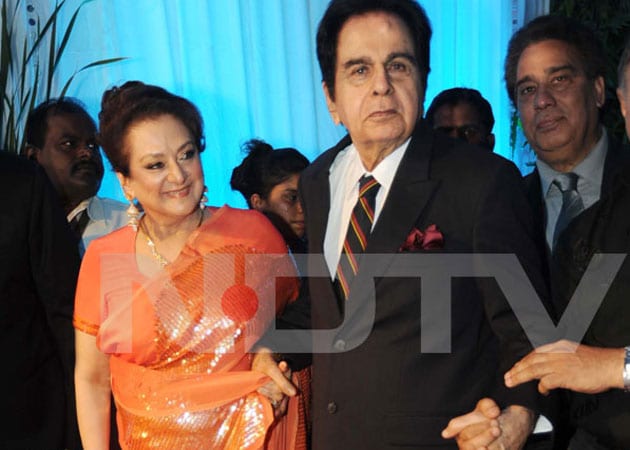 Highlights
On Dilip Kumar's 90th birthday, members of the Hindi film fraternity saluted the veteran actor and wished the best for him.
Actors and filmmakers took to Twitter to share their thoughts. Here's what they wrote:
Javed Akhtar: In my dictionary Dilip Kumar means dignity, depth, sensitivity, subtlety, sophistication and class. Happy birthday Dilip sahib.
Shabana Azmi: Happy birthday Dilip sahib. There has not been another like you. We continue to draw inspiration from your performances and your commitment.
Manoj Bajpayee: Salute to Dilip sahib and his commitment to the craft! May you live for 1000 years and keep entertaining us.
Farah Khan: Happppy birthday to Dilip sahib! First stampede I ever saw was when I was 5, at a wedding! He walked on to the stage and 500 women jumped onto it, breaking it!
Aman Verma: A very happy birthday to the greatest actor our industry has ever produced. All of us are clones of his style of acting. Salutations DILIP KUMAR. c
Mumbai:
On Dilip Kumar's 90th birthday, members of the Hindi film fraternity saluted the veteran actor and wished the best for him.
Actors and filmmakers took to Twitter to share their thoughts. Here's what they wrote:
Javed Akhtar: In my dictionary Dilip Kumar means dignity, depth, sensitivity, subtlety, sophistication and class. Happy birthday Dilip
sahib
.
Shabana Azmi: Happy birthday Dilip
sahib
. There has not been another like you. We continue to draw inspiration from your performances and your commitment.
Manoj Bajpayee: Salute to Dilip
sahib
and his commitment to the craft! May you live for 1000 years and keep entertaining us.
Farah Khan: Happppy birthday to Dilip
sahib
! First stampede I ever saw was when I was 5, at a wedding! He walked on to the stage and 500 women jumped onto it, breaking it!
Aman Verma: A very happy birthday to the greatest actor our industry has ever produced. All of us are clones of his style of acting. Salutations DILIP KUMAR.c