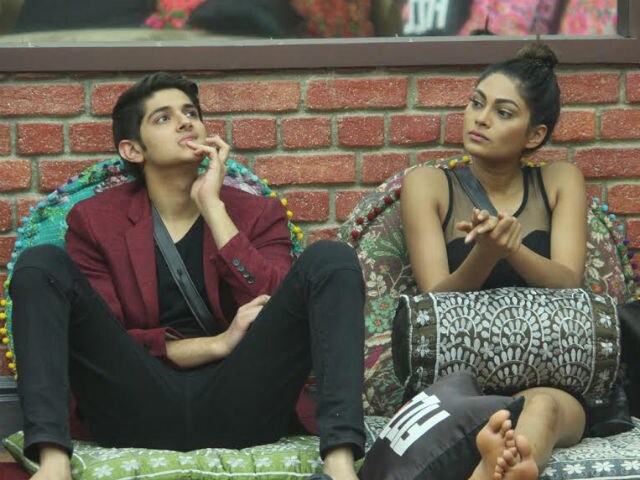 Highlights
Lopamudra said that Bani doesn't stand a chance to win
Bigg Boss asked the contestants to evaluate their performance
Rohan and Lopamudra flouted the rules of the task
New Delhi:
After entering into the
finale week of the show,
the housemates woke up to the song
Baazigar O Baazigar
, dropping major hints about the new challenge. Early in the morning, Lopamudra was having a conversation with Rohan, Manu and Manveer, where she said that that Bani doesn't stand a chance to win the title. Meanwhile, Manu and Manveer poked fun at Rohan and claimed that will get evicted during the mid-week eviction. Later in the day, Bigg Boss asked Manveer, Lopamudra, Bani and Rohan to gather the finale room. As they entered the room, they were asked to evaluate their performance on the show so far and then unanimously decide on which contestant will get eliminated from the grand finale run and in what particular order. The person whose name was taken first will leave the room right away.
#BiggBoss calls @bani_j, @rohan4747, @lopa9999 & #ManveerGurjar into the finale room! #BB10GrandFinalepic.twitter.com/hbMxyeP7Lp

— Bigg Boss (@BiggBoss) January 23, 2017
Manu was asked to stay back until further instructions. Bigg Boss then informed Manu that he would have to guess about which contestant would leave the room first. If Manu's estimation is correct, the prize money would increase to Rs 50 lakhs.
Manu took Bani's name first. At the same time, Rohan and Lopamudra said that Bani doesn't deserve to stay in the finale and hence she should leave first. Bani got agitated and said that Lopamurda and Rohan have also been unsuccessful in completing tasks and therefore she thinks either of them should leave. On the other hand, Manveer took Lopamudra's name. After a heated discussion, Bani left the room. Further, Bigg Boss congratulated Manu for making the right estimate and added Rs 1 lakh rupees to the final prize money. Bani then joined Manu in the game.
.@bani_j cries after @rohan4747 & @lopa9999 make a lot of accusations on her! Do you think her reactions are justified? #BB10GrandFinalepic.twitter.com/eDJ5lQjtHc

— Bigg Boss (@BiggBoss) January 23, 2017
Next, Manveer left the room, as Rohan and Lopamudra decided not to. When the last buzzer went off, Rohan and Lopamudra came out of the room together.
As the day ended,
Bigg Boss
announced that because of Rohan and Lopamudra's decision to come out of the room together, the prize money would be reduced to Rs 40 lakh. Manveer, Manu and Bani blamed Rohan and Lopamudra for their casual attitude towards the game. However, Lopamudra said that they didn't do it deliberately and blamed Bigg Boss instead.